20-Feb-13 – 19:48 by ToddG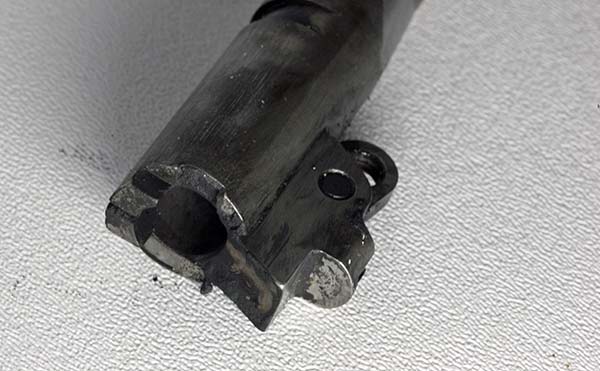 25,466 rounds
10 stoppages
0 malfunctions
1

 parts breakages
Perhaps my sense of  humor is just a bit too dry. For those who didn't get the joke from last Friday: The SACS/Warren pistol is running just fine and broke the 25,000 round mark. Contrary to popular belief, Todd Green carrying a 1911 was not the 2012 disaster predicted by the Mayans.
I had promised the good people at Springfield Armory Custom Shop that I'd be more responsible about preventative maintenance with this $2,000 semi-custom 1911 than I have in the past with, you know, store bought guns. Unfortunately, circumstances and an innate sense of laziness led to the gun going the last 6,132 rounds without cleaning. And it ran quite well during that stretch despite the dire warnings from many that a 1911 — and especially a 9mm 1911 — would need to be kept tightly tuned. In fact, if you look at the numbers, the gun has run more reliably when it's been dirty.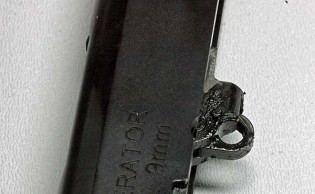 Now admittedly, the gun was pretty foul by the time 25,000 rolled around. With an accuracy assessment due, it seemed like now would be a good time to give the gun a decent cleaning. Even though I only performed a basic field strip cleaning, it took quite a while to get some of the caked on crud to let go of its hold on the steel. Solvent, cotton swabs, toothpicks, possibly a dental tool or two later… it may not be clean enough to pass USMC white glove inspection but it's definitely in clean working order.
Except for the caked on fouling, nothing notable was found during the cleaning and inspection. The recoil spring was replaced with another 14 pound variable; the old one, with about 5,000 rounds on it, was two coils shorter than the new. The firing pin spring was also replaced per 1911 standard practice, though the "old" was only about half a coil shorter than the "new."
As someone who so frequently and publicly slandered the 1911 platform in general, I must admit that this gun exceeded my expectations. Even some of the most diehard 1911 fans predicted doom in 9mm. But here it is, happily on my belt, as dependable as anyone could ask for. Springfield did an incredible job putting this gun together.
After getting the magazine situation sorted out and settling exclusively on Wilson ETM magazines, the gun has run a steady course without much drama. The only parts breakage was the mainspring housing pin that snapped in two somewhere around the 18,000 round mark (documented here). Springfield promptly replaced it with an improved pin and told me to expect no further problems.
As a precaution, a few weeks into the test the gun went back to SACS to be fitted for a couple spare extractors. That has proven unnecessary, at least so far. The gun is still on its original extractor. Both range testing and workbench testing show that it is still functioning fine with no apparent loss in tension.
The only noticeable wear on the gun has been from countless hours of holster work. The finish around the ejection port has been marred just enough to make the gun look well used.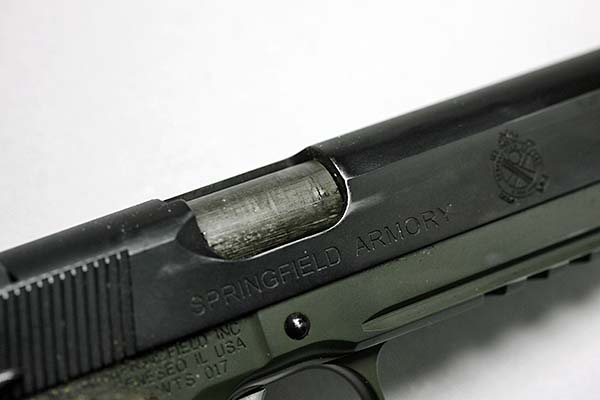 What else is there to say? A year ago I looked upon 1911s (and their owners) as misbegotten malcontents. The Springfield Custom Shop Warren Tactical gun has completely changed my opinion of what a quality well-built 1911 can do. I'm already on to my next project — another 1911 — and I've also been approached by another well known 1911 company about the possibility of doing a 50,000 round test on one of their forty-fives. It could happen…
Train hard & stay safe! ToddG
You can also follow and discuss via the pistol-forum.com 2012-2013 Endurance Test thread.
Previous Springfield/Warren 9mm 1911 Endurance Test posts at pistol-training.com: