9-Apr-13 – 15:54 by ToddG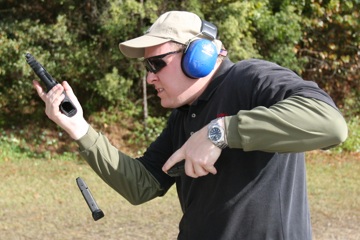 When I first got serious about defensive/tactical shooting about twenty years ago, one of the golden rules was never take your eyes off the bad guy. Specifically, they applied this rule to reloads. It was the height of suicidal stupidity, they said, to look at your gun when reloading.
But as I got more involved in competition shooting I also got more serious about tracking my shooting skills. Pretty quickly it became apparent that my reloads were substantially slower than many of my peers'. One thing they all had in common was that they used their eyes instead of trying to depend on the Force to guide their magazines. After all, no one ever tries to thread a needle with his eyes closed. Using your vision to aid in complex geometric tasks improves both speed and reliability.
Of course, I still run into students who have a hard time accepting the idea of looking at the gun instead of downrange. The argument is pretty simple: what if the bad guy does something and I don't see it?
You have two choices then:
Reload slower, and in the extra time it's taking you to get back into a fight you'll enjoy a nice view of the bad person shooting at you.
Reload faster, and regardless of what the bad guy did at least you'll have something other than a paperweight in your hand to deal with it.
Seriously, in the fraction of a second it takes to glance at the magwell as you insert the magazine what exactly do you think is going to happen? Unless you're fighting The Flash, the guy can only move so far. So even if you're flat footed and nowhere near cover (neither of which is an ideal tactic) I still can't figure out where the overwhelming danger comes from.
On the other hand, it's pretty well settled that the average poorly trained "gunfighter" lights off a shot every quarter second or so. That means if you fumble your reload just a little bit or have to slow down because you're not watching what you're doing you might add a few quarters of a second to your reload which means the bad guy gets to shoot at you more than if you'd finished faster.
Is it really that hard a choice?
Another argument is that looking at the magwell will spoil one's ability to reload in the dark. Setting aside the questionable hypothetical in which someone is actually forced to reload his gun in a pitch black environment, it still makes more sense to practice the visual approach. Just like aiming the gun or any number of other things we want to practice until they happen subconsciously, learning the best way to reload the gun (which is aided by looking at what you're doing) is going to make your blind, in the dark, under stress reloads much more likely to be on the money. Put another way, why purposely do your reloads in a subpar (blind) way all of the time instead of some of the time? That's like saying that because your gun may malfunction, you purposely set it up to malfunction always.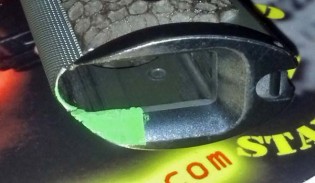 For years I've been using a little spot of paint on the inside of my magwell as a visual indicator to help me with my reloads. Competition shooters have been doing this since before I was born, probably. There's a pretty strong correlation between my fumbled reloads and those times when I didn't see the paint mark.
It also helps if your chosen reload technique involves having the gun up in front of your face, of course. If you reload at your belly button then you're going to be visually disengaged from the downrange scene for a much longer time. Personally, I like to reload with the gun in a position that keeps the front sight in front of my eyes and in line to the target I'm going to shoot next. That makes it very easy and natural to pick the front sight up again visually as I press out after the reload.
Train hard & stay safe! ToddG