10-Apr-13 – 10:13 by ToddG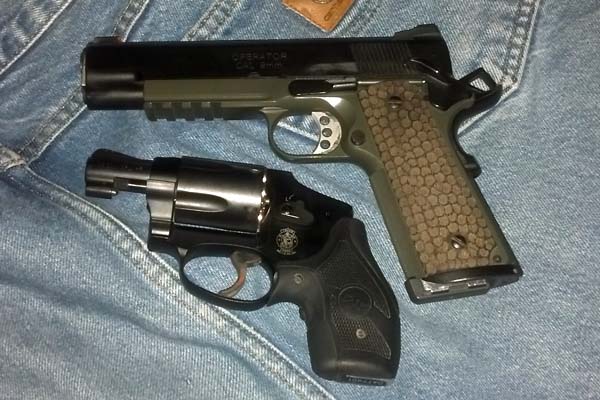 A perennial discussion over at pistol-forum.com revolves around a seemingly simple concept: how much gun is enough?
There are many schools of thought but they can be reduced to two opposing camps:
One says that a small gun (often represented by the ubiquitous Smith & Wesson j-frame) is likely to have every capability one might need in a realistic self-defense scenario and that, due to its size and light weight, has the benefit of being easy enough and comfortable enough to conceal that it would always be with you.
The other argues that larger semi-auto (often represented by the equally ubiquitous Glock 19) is vastly more capable when you need it and not that much harder to conceal if you put your mind to it.
I am solidly, unwaveringly, fervently in the second camp. In fact the smallest gun I ever carried regularly was a SIG P229. The majority of my concealed carry life has been spent with full size Berettas, full size SIGs, then a slew of full size guns during the pistol-training.com endurance tests (M&P9 full size, HK P30, HK45, Glock 17, and now an all steel railed 5″ 1911).
In all the practical shooting and force-on-force training I've done, never once have I thought any of the following:
I wish this gun held less ammo!
I wish this gun had a longer, heavier trigger!
I wish this gun was a lot harder to reload!
I wish this gun had worse sights!
Right?
In fairness, my job and my lifestyle allow me to dress in such a way that carrying those guns is possible. If you're a Beverly Hills lifeguard required to wear Speedo briefs at work then your reasonable concealment options aren't quite as numerous. But many people use dress codes as an excuse. Carrying a serious gun in a suit and tie isn't impossible, it simply takes more thought and effort than tossing a Ruger LCP in a pocket. (as an aside, I own an LCP and like it quite a bit… but I carry it as a backup to a real gun, not as a replacement for one)
A common argument among the mouse gun crowd is that "most problems can be solved with a mouse gun if you're smart about it." But the flip side to that argument is that "you can carry a real gun most of the time if you're smart about it." How is that even a tough choice? Option A, more effort in the calm of your home putting the gun on; or, Option B, more effort in the middle of a life-or-death fight. Gosh, Bob, let me think about that one for a minute…
What I actually hear when people start to talk about the benefits of the mini-gun isn't that there are really times or places that they cannot carry a more serious gun. Rather, the issue is that they simply choose to toss a j-frame in the pocket rather than go to the trouble of wearing, say, a belt and a holster. If you choose to carry a low capacity sub-caliber handgun because you're feeling lazy, that's fine. But please stop trying to justify it as a smart choice.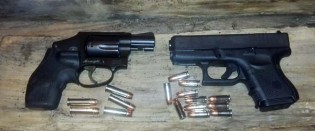 And even when the situation does require something a little smaller, there are far better options with more firepower, better ballistics, and better shootability. Take the Glock 26 for example. Sure, on paper it's a little bigger and a little heavier than a lightweight j-frame. But practically speaking it's ridiculously easy to conceal. I've spent plenty of days in non-permissive environments wearing a Glock 26 in a SmartCarry holster. Maybe the SmartCarry isn't as simple as dropping a gun into a pocket but I get twice as many bullets… bullets that are more effective… in a gun that is easier to shoot. Gosh, Bob, I need to think about this one, too…
Here's a comparison of the G26 and a Smith 442 size: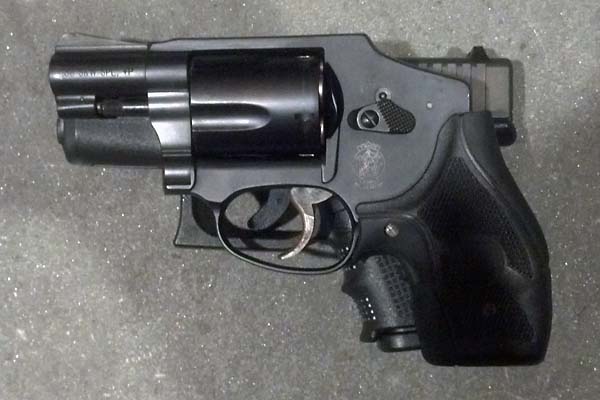 As mentioned above, the mouse advocates like to tell us that most problems can be solved with a low capacity anemic small-caliber pistol. They'll say that most unpleasant incidents are resolved simply by displaying a gun. They'll say that many incidents are resolved as soon as the first shot is fired. They'll explain that often as soon as one assailant is shot the rest, no matter how numerous, will run away rather than press the fight.
And you know, they may be right. The odds are that a mouse gun really will be enough gun for me to get through life. Of course, if we want to talk about odds then why carry a gun at all? Most people will never need one at all regardless of size, caliber, capacity, and the rest. If we really want to play a numbers game we can save ourselves a ton of money and effort and skip carrying altogether.
But if I'm not going to play the odds, it's intellectually dishonest to talk about 2% chances as opposed to 1% chances. Heck, the way I look at it, if fate is having her way with me then I'd rather be prepared for as much as I can be rather than some statistical average. The problem with statistical averages is that half the time you end up on the wrong side…
In some circles there is also a certain sense of coolness that comes from carrying a minimalist sidearm. Let's face it, what's cooler: hunting a lion with a .375 Magnum rifle or hunting a lion with a Bowie knife? But cool or not, personally if I found a lion stalking around my kitchen I'd prefer the rifle. My handgun isn't meant to be a fashion statement. It's meant to be a handgun.
Train hard & stay safe! ToddG