12-Apr-13 – 01:35 by ToddG
Caleb's blog post yesterday about IDPA's cover rule led to a back channel discussion between the two of us about the use of cover in a competitive venue. While I could just complain about the way IDPA's approach to cover has evolved over the years (I began shooting IDPA in 1997 and I'm member number 1313), that would be like kicking a sick dog. IDPA knows its rules need to be reworked and a new rulebook is expected by the end of this year.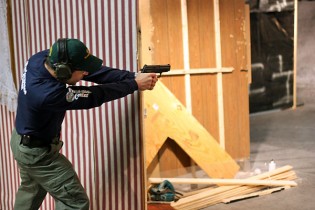 Instead, I want to address just how difficult it is to have a "cover rule" to begin with. This isn't just an academic thought. When SLG and I wrote the draft rules for KSTG (Kinda Sorta Tactical Game), coming up with a functional rule about use of cover was probably the single biggest hurdle we found. Why?
The very first thing you learn (or should learn) about cover in a decent tactics class is that use of cover is situational. While there are some consistent concepts to keep in mind there are very few hard rules and even those have exceptions. A few lines in a rulebook cannot hope to encompass everything there is to know and apply when it comes time to put a barricade between you and the thing you're shooting at. More importantly, a universal "cover rule" cannot account for the huge variation in shooting positions and prop setups from all the matches at all the clubs for all the years the game is being played.
Next you have to keep in mind what is going to be happening in the game environment. A lot of "cover rules" are based around traditional cover techniques used when slowly searching around corners. But those techniques aren't always the best approach in the middle of an active ongoing two-way exchange of gunfire. Applying "slowly pie the corner" rules to "hurry shoot him now!" situations is fraught with fail. It's also worth noting that many of those rules get trapped by a square range foundation of static targets… it's a lot easier to set up at a perfect angle to a target frozen in place than it is to one with, let's say, legs and feet. Or a mobility scooter.
The major decision that needs to be made is whether you'll have a subjective cover rule or an objective one.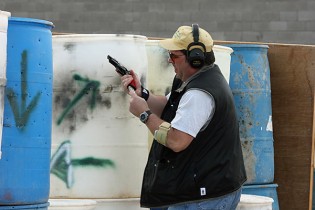 IDPA has a subjective rule: the Safety Officer makes a judgment call as to whether he thinks you're using cover within the rules, primarily related to whether 50% of your torso is "behind cover." The problem with this is that it's impossible to be perfectly consistent. I've watched SOs make wildly different calls based on little things like where the SO was standing or how fast the shooter transitioned from target to target. That's not a slam on the SO, it's just very hard to do that kind of trigonometry in the blink of an eye while you're also supposed to be enforcing safety.
The alternative is to use an objective rule, such as a fault line. At first glance fault lines sound smart but they've got their own significant pitfalls. The biggest problem is that a fault line pretty much requires the shooter to be watching his feet instead of watching what's happening downrange… it's hard to imagine something less realistic than that. Since most shooting positions involve more than one target down range, you're also stuck with either lots of different fault lines at every corner or simply giving people the most generous fault line and letting them use cover really poorly.
At the inaugural "beta test" KSTG match, the rulebook specified a subjective standard very similar to IDPA's. The one major change we made from the IDPA approach, however, was to eliminate the warning that IDPA SOs give shooters. Our thought process was pretty simple there: there is no warning in a fight; if you step out too far and catch a bullet in the nose that's going to be your only warning.
Suffice to say that our intensely debated and carefully calculated cover rule was an utter failure. Without the warning, competitors — all of whom were experienced IDPA Master-class shooters — gobbled up penalties like candy. Go figure, these seriously competitive type-A personalities weren't happy about that. And that raises an important point about rules in a game: no matter how "real" you want it to be, the game still has to be enjoyable. Take away the fun and no one wants to play anymore.
So fast forward to 2011 when a small group of us began running KSTG matches at the NRA Headquarters every month. Knowing that the old subjective rule was a failure we decided to use fault lines. And for the past year and a half, we've been using those fault lines. And for the past year and a half, they've been rubbish.
As mentioned above, it's just stupid to be watching your feet when you're supposed to be shooting a threat.
At first we set up fault lines that forced people to use tight cover… and there were tons of penalties and the people were not happy. Now we're using very generous fault lines that barely constitute using cover in the first place.
Laying down dozens of fault lines for a match is annoying at an indoor range. It would probably be doubly so outdoors on grass or broken ground.
So there we have it. IDPA's approach is bad. The alternative is bad. We haven't been able to come up with a better idea. Please help.
Train hard & stay safe! ToddG