26-Apr-13 – 16:57 by ToddG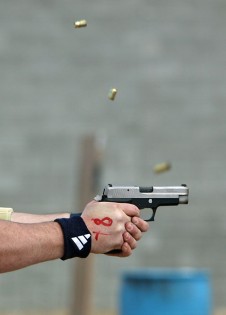 A recent post by Caleb over at Gun Nuts (Run it until the wheels fall off) got me thinking about the different approaches people take to shooting fast & accurately.
As I've mentioned before (Permission to Miss), at a certain point it becomes necessary to miss if you want to shoot faster. More specifically, you have to push your speed to the point where you miss once in a while if you're going to learn how to move your fingers and eyeballs at a speed beyond what you can accomplish otherwise. If you go out and shoot 100% hits every day on every target, you won't see the kind of improvement in speed that you would if you were pushing yourself to the point where you were instead getting, say, 90% of your hits.
On the other hand, you can take that approach too far. We'll use Caleb's example of the IDPA Classifier. Over the course of the Classifier you fire eighteen rounds at the 20yd line for a total of 90 points. Before I'd worry about how fast I can shoot those targets I'd worry about simply being able to hit them. If you slow down, can you score all 90 points? If not, it's probably not time to speed up, now is it?
If you blast away at those targets so fast that you didn't even make contact with the cardboard — if you had a complete miss on the target — then I wouldn't call that "shooting 'til the wheels fell off." I'd call that "shooting until the wheels fell off, the transmission dropped out, and the engine exploded." Shooting wildly doesn't improve your skill. Any fool can make noise really fast. Shooting to the point of failure only helps you if you can assess what was and wasn't working. "Too fast, didn't see anything" doesn't tell you a heck of a lot.
Train hard & stay safe! ToddG