30-Apr-13 – 04:50 by ToddG
You've seen it a hundred times on the internet: "I don't want to go to a class and learn the wrong thing!" The implication is that someone could attend a class and learn something bad.
Is it bad to learn one of those techniques or attend a class where some of those techniques are taught?
Well… it's complicated. Let's use reloading as a simple example.
I'm pretty particular about how I think reloads should be performed (e.g., using the slide release to drop the slide and looking at the magazine well). So let's suppose someone wanted to take a class from Joe Instructor and Joe, it turns out, teaches students to rack the slide by hand and to stare his enemies in the eyeball while reloading. Will attending Joe's class ruin the student for life? Will learning that reload method get him killed if he's attacked by a gang of drug-dealing zombie terrorists?
Uh… no.
Odds are the student is far more competent overall after taking Joe Instructor's class than if he'd spent his weekend worrying on the internet about where to take his first pistol class. He's put rounds down range. He knows what he can hit and how fast he can make those hits. And while he may not know the "best" way to perform every possible technique, he at least knows a way to do all those things. Someone with a well practiced no-look, overhand rack reload is still probably faster than the guy who's never been taught how to reload at all, plus he's probably better prepared to pull it off under stress.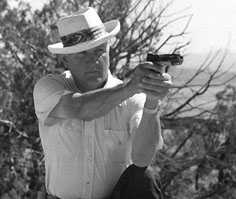 Even if you later come to the conclusion that there is a better way, you can always change the way you do things. As I've mentioned before, when I first started shooting I was taught a strict Weaver stance, thumb-over-thumb grip, never run the gun dry, etc. I practiced those things for years. They were holy writ. I worked hard to make them automatic and effortless.
Then over the course of a few years I was exposed to a better stance, a better grip, and other tactics and techniques that worked better for me and/or were more realistic. Sure it took time to learn those. Maybe it even took a little more time than if I'd started with those techniques in the first place. But in the meantime I still had well practiced competency based on the things I'd learned previously.  And in the long run I had experience with multiple techniques and could intelligently decide which was best for me.
But the important thing is that I was better off during those first years as a Weaver-shooting disciple than if I'd never learned how to shoot in the first place. Wouldn't you agree?
Sure, there are some techniques — and perhaps some instructors — who don't really pass the laugh test. But they're pretty easy to spot if for no other reason than the rest of the internet is actually laughing at them.
Rather than being paralyzed by indecision, find a class from someone with a decent reputation either nationally or locally and just sign up. You're not making a life long commitment to a particular style. But you are starting a lifelong endeavor to become a better shooter.
Train hard & stay safe! ToddG
(Jeff Cooper photo borrowed from AmericanRifleman.org article Jeff Cooper: Father of Modern Pistol Shooting by Cameron Hopkins)