30-Apr-13 – 12:55 by ToddG
… or, Trying to Profit from the Sandy Hook Massacre Makes You a Giant Twit!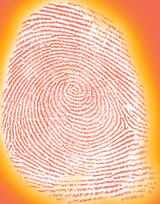 Yesterday, Computerworld published a story about Safe Gun Technology, a company that has (allegedly) developed a fingerprint authorization system for firearms. The company has only been able to produce one working prototype in ten years, but now the Sandy Hook incident has given co-founder Charlie Miller a chance to hawk louder. Some quotes:
"There was a zero percent chance of stopping [madman Adam Lanza] because this technology was not available."
"Our motto is … if we save the life of one child, it's a miracle to that child and everyone that child touches."
The company's working prototype relies on a computer processor that Computerworld describes as being the size of a blackboard eraser. But even if the company can meet its promise to shrink the technology down to be unobtrusive, the core concept has a tremendous number of problems.
First and foremost is the weakness of current fingerprint identification technology itself. As the folks discussing this over on tech.slashdot.org point out, the level of sophistication available for a miniaturized reader/analyzer is pretty low. So either you're stuck with having a "safety" that actually lets a lot of unauthorized people fire the gun — creating a dangerously false sense of security — or you run the risk of being locked out from your own firearm in an emergency.
Next are the practical issues that any gun owner would immediately understand. What happens if you're wearing gloves? What if your finger or the sensor gets mud on it? How well does it work when wet… either because it's raining or because you have blood on your finger?
Along the same lines, what happens if the system dies? If the battery runs out or the mechanism breaks is the gun locked up and unshootable? Shooters worry about small steel parts being too fragile! Now we're talking about miniaturized electronics that will be subjected to tens of thousands of high pressure high velocity cycles.
Finally there is the physical performance. According to the manufacturer, the system's fingerprint reader is in a "natural position" that you'll touch when gripping the gun. Once you are authorized to shoot, you must maintain pressure on a separate tape switch for the gun to fire. As soon as you loosen your grip on the switch — whether due to dropping the gun, injury, or the tape switch coming loose itself — you must first touch the fingerprint sensor again before you can fire the gun.
Uncle Mike's tried something similar back in 2001 with a fingerprint-reading duty holster. The result was so bad it never went into full production. Apart from technological difficulties, testers found that (a) a lot of cops wear gloves at various times during a patrol shift and (b) when you absolutely positively need a gun in your hand right now there may not be time to line up your finger with a small electronic sensor first!
Anyone who has been following along with the development of the Gadget knows that I'm the last person to oppose innovations in firearms safety. And I'm all for practical solutions that keep unauthorized people from accessing and using firearms in an illegal manner. But the technology needs to be one that doesn't hinder the owner's ability to defend his life when it's dark, cold, wet, and he's under the most intense physical and emotional stress of his entire life.
And trying to use Sandy Hook to drum up new investors is just vulgar.
Train hard & stay safe! ToddG
(H/T to the folks at tech.slashdot.org)