17-May-13 – 23:42 by ToddG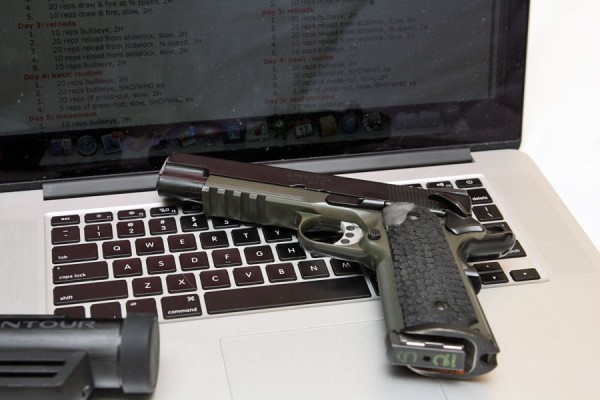 35,257 rounds
11 stoppages
0 malfunctions
3

 parts breakages
Thirty five thousand rounds in the can … who ever would have guessed?
As you can see, I got to practice quite a bit this week. But in addition to the big round count I also spent some serious time dry firing this week: three and a half hours, which for me at least is a ton of dry fire in one week. Results have been mixed but my hope is that as I incorporate dry fire into my regular routine it will transfer more readily to live work.
You may also have noticed the funny looking thing on my pistol grip in the photo above. Here is a closer look: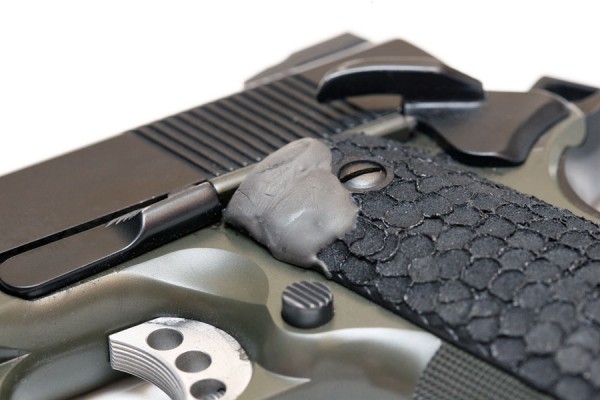 That, ladies and gentlemen, is genuine J-B Weld compound. Ugly? Very. But in anticipation of this weekend's class with Robert Vogel I've been playing around with my grip some more. As reported previously it was causing havoc with slidelock on an empty magazine. So add one ugly grip tumor and my support thumb is no longer contacting the slide lock lever no matter how I grip the pistol.
More next week after the class.
Train hard & stay safe! ToddG
You can also follow and discuss via the pistol-forum.com 2012-2013 Endurance Test thread.
Previous Springfield/Warren 9mm 1911 Endurance Test posts at pistol-training.com: