23-May-13 – 01:26 by ToddG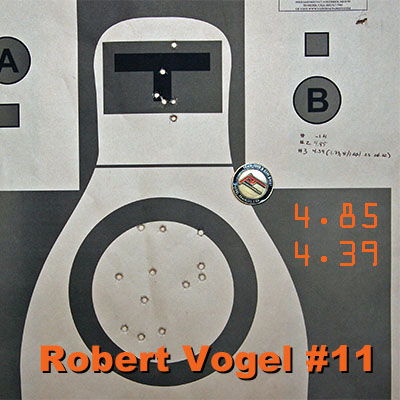 As mentioned briefly last week, umpteen-time USPSA and IDPA national champion Robert Vogel earned F.A.S.T. Challenge Coin #11 on Saturday. Robert was the first person to get a coin shooting on the updated Q-PT target. Much more impressive, though, Robert was the first shooter to earn a F.A.S.T. coin on his first official attempt.
It's all the more impressive, in fact, because Robert shot the test with a borrowed cover garment set up differently than the one he uses (and practices with), shooting from a holster and mag pouches that ordinarily never get paired up with concealment in the first place.
Vogel's first run was under 5 seconds but — thanks to the first concealment vest he borrowed — the draw was fumbled resulting in a first shot to the 3×5 landing a fraction of an inch low.
The second run, with a 5.11-style vest, turned in a clean 4.85 even though the slide failed to lock back requiring Robert to rack the gun before the body shots:
The final run was an impressive 4.39 (1.73, .41 / 1.60 / .23, .20, .22) clean of course:
Congratulations, Robert, and thanks for being a great sport about running the drill without your normal gear.
Train hard & stay safe! ToddG