3-Nov-08 – 00:30 by ToddG
56,383 rounds
2 stoppages, 0 malfunctions, 2 parts breakages
While the M&P test was slow this week, things certainly weren't slow for S&W. They sold 7,500 M&P9 pistols to the Iraqi Military & Security Forces. We can only assume it was based on the things they read here at pistol-training.com … right?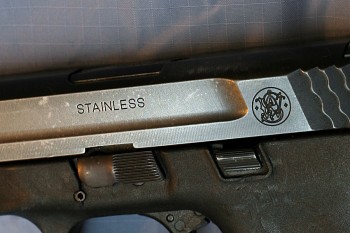 Finally, after almost seven months of daily carry, shooting in pouring rain, and general everyday abuse, this week we finally saw some rust on the M&P9 test gun. The pistol was left to sit for three hours in a soaking wet leather holster in 70-80 degree weather. (don't ask why … it's … uh, complicated) The result: some minor surface corrosion of the non-reflective black finish that is applied after the steel has been subjected to Melonite treatment.
For those who aren't familiar, the Melonite process is not what makes the steel on an M&P black. Almost identical to the Tenifer process used in Glocks and Walthers, Melonite is a chemical process that creates an incredibly hard, corrosion-resistant layer out of the base steel. Only after that's been accomplished is a second more traditional black finish applied to the slide and barrel.
In other words, the finish corroded off. The steel appears to be perfectly fine. We've sent copies of the photos to our contacts at Smith to verify.
Otherwise, the gun continues to work as if it were new. Accuracy has been excellent — this week I made it out to 23 yards on the 3×5 Walkback Drill without missing a shot — and the gun hasn't missed a beat since the trigger spring replacement 18,000 rounds ago (Week 20).
The other bad news for Week 28, our planned announcement of the pistol-training.com Limited Edition M&P9 will have to be delayed. A scheduled final conference call with S&W had to be postponed. Hopefully, we'll have all the information available this week, and we'll announce it here as soon as possible.
Week 29 is going to be much different than the usual range practice and training. The test gun and I are taking a cross-country trip. So while there probably won't be much shooting going on, next week's report will have lots to say about driving 8 hours a day for four days straight with a full size M&P9 in an appendix holster. We'll be assessing both the Custom Carry Concepts kydex Looper AIWB as well as a prototype Garrity's Gunleather leather AIWB.
And if any of our readers happen to live in Glasgow, Montana … let me know. Maybe we can grab dinner Friday night. 8)
Train hard & stay safe! ToddG
Previous entries: