20-Jul-13 – 10:45 by ToddG
43,274 rounds
13 stoppages
0 malfunctions
3

 parts breakages
The gun suffered another stoppage, a failure to feed a CCI Blazer 3509 FMJ. The bullet nose was pressed straight into the bottom of the feed ramp. A simple Tap-Rack solved it. The gun had recently been lubricated but it had been more than 3,500 rounds since the last cleaning. While that isn't extraordinary for this gun during the test it could very well have been a factor. Time to break down and clean it, I suppose.
Practice sessions have been shorter than usual but very focused. The main skills I've been working are the draw, reload, and 1-handed marksmanship… in particular trigger manipulation. As I mentioned last month, I'm not as enamored with the 1911 trigger as some people. Working strong- and weak-hand only marksmanship puts great emphasis on trigger manipulation because you don't have a support hand to mask small mistakes.
The results have been positive. Yesterday at the end of my practice session I shot six clean sub-5 second F.A.S.T.s in a row which is by far the best I've done with the 1911:
4.42 (clean / 1.51, .29 / 2.07 / .19, .17, .19)
4.75 (clean / 1.55, .31 / 2.34 / .19, .18, .18)
4.56 ( clean / 1.52, .43 / 2.07 / .19, .17, .18)
4.87 (clean / 1.62, .40 / 2.28 / .19, .19 , .19)
4.58 (clean / 1.52, .32 / 2.22 / .17, .19, .16)
4.46 (clean / 1.45, .47 / 2.02 / .17, .17, .18)
6.47 (-1H / 1.54, .35 / 2.04 / .19, .18, .17)
The individual times aren't earth-shattering but as anyone who follows my pistol-forum.com training journal knows, lately my priority has been consistency. That practice has paid off. Making fewer mistakes — and making less costly mistakes — means better on-demand performance.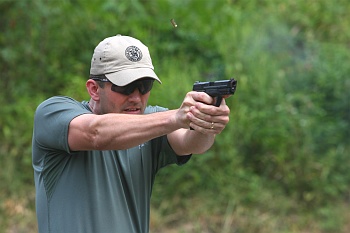 Practice over the next week will be more of the same with trips to the NRA Headquarters range and Peacemaker National Training Center, culminating in a 2-day Tactical Pistol Skills class from one of the best instructors I've ever met, my friend Ernest Langdon. Ernest and I have been spending quite a bit of time on the range together lately but I'm really looking forward to stepping back into the role of student for a couple of days.
Before that, though, there is this month's KSTG match at the NRA which will include the Classifier (three runs of the F.A.S.T.) and a chance to see whether all this talk of consistency actually proves itself when it matters.
Train hard & stay safe! ToddG
You can also follow and discuss via the pistol-forum.com 2012-2013 Endurance Test thread.
Previous Springfield/Warren 9mm 1911 Endurance Test posts at pistol-training.com: