10-Nov-08 – 23:33 by ToddG
56,383 rounds
2 stoppages, 0 malfunctions, 2 parts breakages
As we told you last time, this past week involved no shooting of the M&P9 Torture Test gun. Therefore, there isn't a whole lot to report.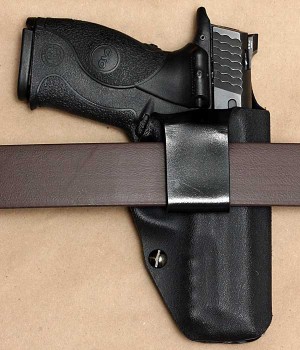 I personally carried the gun while driving over 2,200 miles in five days. It rode in one of two appendix holsters the entire time: the excellent AIWB Looper kydex holster from Custom Carry Concepts (pictured left) half the time, and a prototype Garrity's Gunleather AIWB holster (which we cannot show you yet) the other half of the time.
Both holsters were plenty comfortable during the long drives, and both provided good concealment. While the debate between kydex and leather will rage on forever — and both have their advantages — it's great to see that either option is becoming available for those who want a really well designed appendix holster.
We mentioned last week that the test gun had developed some surface corrosion. The problem has not returned. Even being subjected to some fairly wet (and freezing cold) conditions during a surprise blizzard in Bismarck, ND didn't cause any new spots to appear.
This week we promise to get back on schedule with the test-firing portion of the project. Look forward to some heavy duty shooting and a full report next Monday.
Train hard & stay safe! ToddG
Previous entries: