24-Aug-13 – 02:37 by ToddG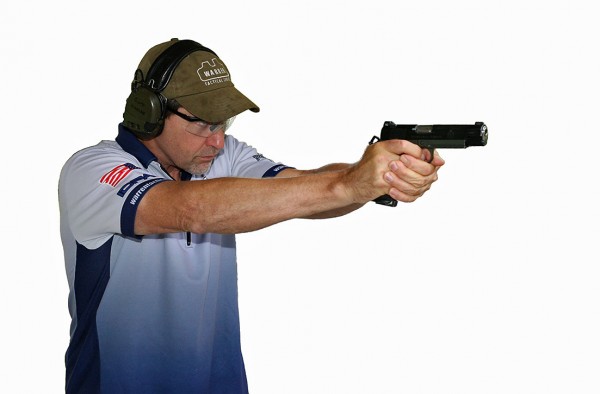 50,286
14 stoppages
0 malfunctions
4

 parts breakages
Pictured above is Scott Warren of Warren Tactical as he fires #50,000.
The gun was used during one hundred range sessions totaling 383 hours over the past 407 days. That works out to an average range day of three hours and fifty minutes during which 500 rounds were fired, or 130.5 rounds per hour. The gun was used at fourteen different ranges across nine states.
Fourteen different loads from six ammunition manufacturers were used during the test. Of the 50,000 rounds fired, more than 60% (32,403) was +p ammunition. 
As you can no doubt tell from the round count in the tally above, I intend to shoot the SACS/Warren gun a while longer. Historically, all of the 9mm test guns were shot until they showed signs of wear that diminished reliability or safety. At 50,000 rounds the 9mm 1911 isn't showing much more than some finish wear. For my part, I still have a long way to go to master this gun. So the "test" continues… though possibly with some tweaks to the gun in the coming weeks. But more on that at a later time.
Also upcoming will be posts about the gun's reliability, my detailed impressions of the pistol, and how this test has impacted my opinion of the 1911 in general.
I'd very much like to thank: Scott Warren for getting such a great gun built and for all his assistance in acquiring the test pistols; Dave Williams and his crew at the Springfield Armory Custom Shop for building a gun that literally changed my worldview when it comes to pistols and for providing amazing customer service every step of the way; "MG" at ATK for making sure the ammo supply train never ran dry even during the severe drought of the past year; David at VCD Grips for helping me keep a hold on my pistol; Jason Burton of Heirloom Precision for his advice, assistance, and fantastic custom mag catch; and Anthony at Wilson Combat for keeping me supplied with mags and the parts necessary to keep them running through a lot of rounds.
Train hard & stay safe! ToddG
You can also follow and discuss via the pistol-forum.com 2012-2013 Endurance Test thread.
Previous Springfield/Warren 9mm 1911 Endurance Test posts at pistol-training.com: