18-Sep-13 – 14:04 by ToddG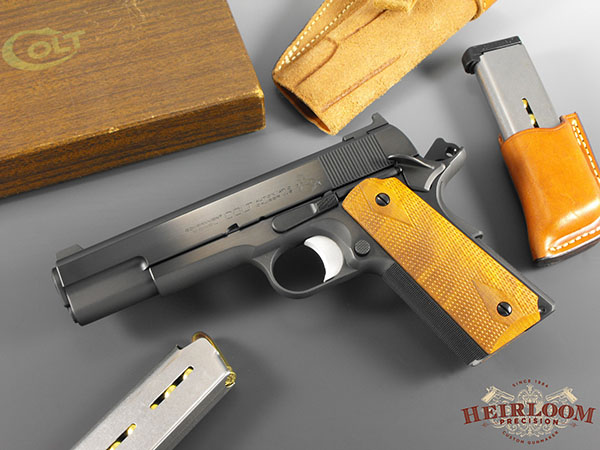 One of the very first posts ever here at pistol-training.com was 1911 Dealt Another Blow at IDPA Nationals,  which rather proudly trumpeted the waning supremacy of John Moses Browning's most famous handgun.* For the first few years of Aim Fast Hit Fast, I didn't have a single person run a 1911 through class without at least one stoppage. And that experience mirrored what I'd seen teaching law enforcement & military folks while I was at Beretta and SIG.
In fact, I'd seen so many 1911s break or otherwise stop running in matches & classes that it was pretty easy to get me going down the road toward a rant not unlike Yeager's famous "1911s Suck" YouTube video. I literally disliked 1911s and often had unkind thoughts about the people who swore by them.
But over the course of the last few years, a series of events — some specific, some in the aggregate — began to weigh on my opinion.
I began to see reliable 1911 pistols in class. They tended to be higher end guns shot by people who knew how to keep them running, but still they were going 1,000+ rounds in a weekend, often without being cleaned, and humming along like sewing machines. A couple of police officers in Northern California come immediately to mind as does a young couple from the southern part of the state who both had custom 9mm Springfields that obviously left an impression on me.
But more importantly, I began paying closer to attention to all the other guns that were coming through class. Lo and behold, a lot of Glocks and M&Ps weren't making it through class without a stoppage. Some failed to the point where — like the 1911s I'd criticized — the owner needed to get a spare gun to finish class. And just like the 1911, some of those Glocks, M&Ps, etc. were box stock while others were customized… ranging from kitchen table DIY trigger jobs to expensive professional custom work.
Researchers call it selection bias. I'd been taking notice whenever a 1911 had a problem, but had mentally filtered out all the other stoppages as flukes.
Simultaneous to this realization, of course, were a slew of back to back problems plaguing the two most popular guns I see in classes: Glocks and M&Ps. White Sound extractors for Glocks and APEX extractors for M&Ps, ejectors, barrels, slide stops, trigger/action sets, mag catches, floor plates, stippling … whether they're changed to get a broken gun running again or changed just for the sake of customization, people were spending an awful lot of money on those "cheap, out of the box" guns.
If someone is going to spend time and money tuning and customizing a gun anyway, all the complaints about needing a tuned & customized 1911 start to ring hollow. A good friend and very well known instructor recently started shooting an STI Duty One (in 9mm no less!) and raves about it. That's a 9mm 1911 that works, right out of the box, for less than $1,300.
So part of my motivation for looking at 1911s was if I'm going to have to worry about whether it works or not, and I'm going to have to spend the money to get it tuned or replace a bunch of parts to get it working & feeling the way I want it to, how is that any different than buying a 1911?
Don't get me wrong, I'm not advocating the mass ejection of Glocks, M&Ps, and other polymer guns into space. You won't hear me shouting, "1911 Uber Alles!" anytime soon. I still believe you need to put a lot more thought into choosing and maintaining a 1911 than its popular competitors. You either need to be your own gunsmith or you need at least two guns: one to carry and one to be at the shop getting fixed when necessary. Capacity, weight, size, and other factors all come into play and might make the 1911 the wrong choice for you. And I still believe wholeheartedly that it's a poor option for LE/military teams.
But facts are facts. Three years ago I scoffed at 1911s and now I carry one every day.
Train hard & stay safe! ToddG
* It is worth noting purely for coincidence that the article in question did in fact end by reporting that the match's High Overall winner was using a 9mm Springfield 1911.
Colt photo courtesy Jason Burton of Heirloom Precision