25-Sep-13 – 16:16 by ToddG
Thanks to Caleb of Gun Nuts Media for posting this video of himself shooting a pretty strange stage at this year's IDPA Nationals: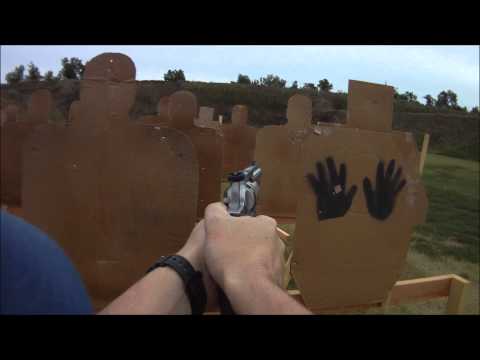 Normally in IDPA there are two kinds of humanoid targets: threats and non-threats. You are supposed to shoot the threats (penalty for bad hits or missing) and you're not supposed to shoot the non-threats (penalty for hitting them at all).
What makes the stage weird is the army of humanoid shaped cardboard cutouts that are neither  targets nor non-threats. They were supposed to simulate a crowd of bystanders at a rodeo. Thanks to the stage design, however, the smartest way to get a good score was to shoot through these "score-neutral bystanders."
That's right. The stage design didn't just allow you to use the bystanders as an aiming point, it actually encouraged it by presenting a problem most easily solved by ignoring the presence of those cardboard cutouts altogether.
You might ask why the stage didn't just use a sea of non-threat targets instead. The answer is that IDPA has a rule specifically forbidding such a thing! A particular stage may only have one non-threat target for every three threat targets. So with nine threats in the stage here, you could only have three non-threats… and if you watch the video you can clearly see those three.
In the future, hopefully IDPA will find something better than "innocent bystanders you're allowed to shoot" for vision barriers at Nationals.
Train hard & stay safe! ToddG