30-Sep-13 – 15:51 by ToddG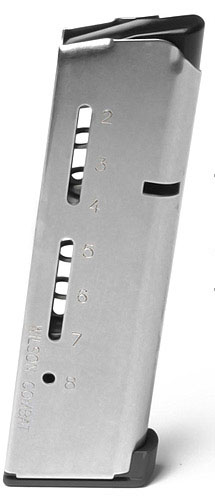 In development for quite some time, Wilson Combat today announced the introduction of its new ETM HD/+P magazine for .45 caliber 1911-pattern pistols.
The major improvement to the magazine has been the inclusion of a flatwire spring in place of the traditional springs seen in just about every other pistol magazine known to man, 1911 or otherwise.
The flatwire spring provides up to 25% more tension over a similar sized round spring which should improve the feed reliability of the 8rd magazine. In addition, because the spring doesn't wear the same way when under compression the spring should have essentially an unlimited service life… The days of replacing your 1911 magazine springs on a regular basis is a thing of the past.
Reports from beta testers have been universally positive.
It's a safe bet that this new magazine from Wilson is going to change the way even the most traditional 1911 owner looks at 8-round magazines. Now we just have to convince them to start making a 10rd 9mm version!
For more information, check out Wilson's website.
Train hard & stay safe! ToddG