2-Oct-13 – 09:04 by ToddG
One of the most common myths I've heard repeated throughout the shooting world has been the importance of a perfect barrel. At matches, during law enforcement testing, and even around the water cooler with engineers at gun companies it seems like many people consider the barrel of a pistol as some kind of sacrosanct, fragile object needing extreme care to maintain pristine condition.
Then there is my approach: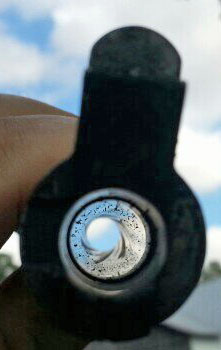 The barrel pictured here (left) is from my Springfield Custom Shop 9mm Warren edition 1911 at a little over 53,000 rounds. It's seen a steady diet of mostly +p pressure, lead-free ammunition. The barrel has been cleaned about twenty times, so once every 2,500 rounds or so on average.
The rifling has been completely worn away from the first third of the bore. We're not just talking about lead and carbon fouling. We're not talking about some little scratch or imperfection. A sizable chunk of the barrel is now smoothbore.
So with such tremendous damage the gun must surely be inaccurate as heck, right?
Well, earlier this week, Bill Riehl of Blackfire Engineering tested the gun in a Ransom rest as part of a comprehensive (and scientific) examination of the pistol. Result? At thirty-five yards, a ten shot group of Federal match ammunition measured 2.04″! Riehl specifically tests at thirty-five yards because it better detects minor stability issues than the traditional 25yd most pistol shooters use. And while you can only extrapolate roughly, the 2.04″ group at 35yd suggests you'd probably see sub-1.5″ at 25yd… in a barrel missing a third of its rifling, in a gun that's got well over 50,000 rounds through it.
I'm not suggesting you should purposely abuse your pistol barrels. Shooting higher pressure, higher velocity ammunition wears barrel faster. Shooting lead-free ammunition wears barrels faster. Failing to keep barrels free of firing residue wears them out faster. If you want your gun to be as accurate as possible for as long as possible, you should take good care of it.
But just like most modern service pistols themselves, the barrels in today's better handguns are incredibly tough and capable of taking a lot more punishment than most people realize. So the next time someone tells you that it's important to "break in" your pistol barrel, or that you have to clean it every 200 rounds, or that some imperfection in the bore will ruin it forever just remember you're talking about a 10MOA pistol, not a quarter-MOA precision rifle.
Train hard & stay safe! ToddG