17-Oct-13 – 11:09 by ToddG
Tim started a series about handgun capacity over at Gun Nuts that stemmed from an earlier discussion about the ubiquitous j-frame as a defensive sidearm.
As I've mentioned before, I'm not a big fan of tiny low-capacity guns as primary weapons. The appeal of a 5-shot pocket revolver simply eludes me.
A j-frame is plenty if no one attacks you.
A j-frame is plenty if an attacker is scared away when he sees your gun.
A j-frame is plenty if an attacker is scared away when you fire your gun.
You could say the same about a blank-firing gun, though.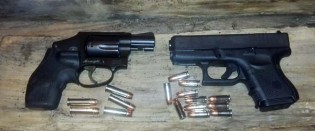 The problem is that once you've reached the point where you're facing someone who isn't going to be deterred by the sight of a gun, it's probably foolish for you to assume that he'll be easily stopped. There are simply too many instances of police officers needing more than five rounds — with ammo more powerful than the typical .38 +p folks keep in their j-frames — to feel like that's suitable for a single attacker. And if your response is that five rounds in your revolver means you can kill five guys with your awesome perfect head shots… good luck with that.
The one nagging issue I have with my current carry gun — a 9mm Springfield Custom Shop 1911 — is the lower capacity than I'm used to. While I understand statistically that 10+1 in the gun is probably enough for most problems that a private citizen is likely to encounter, it's still… well… "less than."
Bullets are opportunities. They're options. Having more of them is always better than having less, even if you don't need them. Because you simply don't know whether you're walking out the door in the morning for another violence-free day, or to become part of America's first Mumbai or Westgate.
Train hard & stay safe! ToddG