20-Oct-13 – 12:42 by ToddG
The folks who developed the NRA's new National Defense Match (NDM) program may have been all about rifles, but the target they came up with is outstanding for pistol training of any kind: the NDM-1.
The target has a shorter body than the traditional IPSC/IDPA cardboard, bottoming out at what would be the lower edge of the C-zone on an IPSC Metric or the -1 zone of an IDPA target.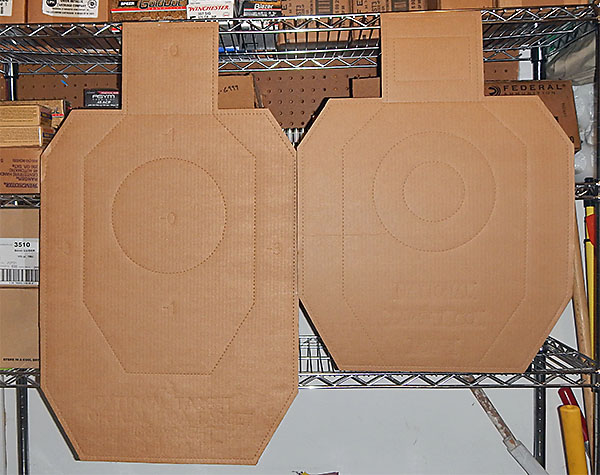 The NDM-1 is otherwise similar to an IDPA cardboard with a few key differences. Starting with the head, the new NRA target has a 3×5 A-zone inside the 6×6″ head box. The 8″ circle is one inch higher, making it more anatomically correct. Finally, there is a central 4″ X-ring.
It's an outstanding training target that allows you to shoot all sorts of drills, including the F.A.S.T. The smaller size will make transporting targets easier and shipping them less expensive. The targets are produced by National Target, the same company that sells the official pistol-training.com "Q" target.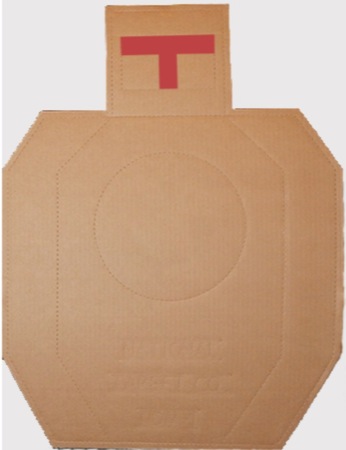 The NDM-1 will also make an excellent KSTG target… for all one KSTG clubs in the known universe! Which is probably no surprise as one of the key people behind the National Defense Match is also part of the team that runs the KSTG matches at the NRA Range.
In fact we've already talked about the possibility of making a couple of minor changes and adopting them for future KSTG events. You can see a mock-up on the right.
The central X-ring is removed and a visual indicator is added to the 3×5 A-zone in the head. The trick would be coming up with an equitable way to tape the head box after it's been shot without requiring multiple paster colors and without disadvantaging subsequent shooters.
If either the standard target or this hypothetical KSTG target become publicly available through National Target, you'll read about it here.
Train hard & stay safe! ToddG