16-Nov-08 – 00:30 by ToddG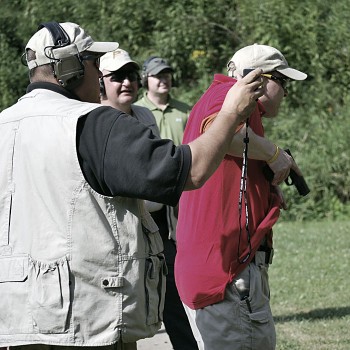 To celebrate our new Challenge Coins, this week's DotW is the F.A.S.T. (aka the Fundamentals, Accuracy, and Speed Test). The F.A.S.T. is a simple, easy to set up drill that tests a number of different skills in just a few seconds. The draw, reload, marksmanship, speed, and the ability to switch gears are all covered in this six shot drill.
Targets are a 3×5 card (which is the "head") and an 8″ circle (the "body"). Range is seven yards. A shot timer is needed for the drill.
The drill is shot either from concealment (vest, untucked shirt, etc.) or using a retention duty holster with all retention devices in use. Starting position has the shooter facing downrange towards the targets, hands relaxed at his sides. The pistol is loaded with exactly two rounds. On the buzzer:
draw
fire two rounds at the 3×5 box
perform a slidelock reload
fire four rounds at the 8″ circle
Score is based on time plus penalties for misses. Missing the head adds 2 seconds per miss. Misses to the body add 1 second. Only the first two shots can count as hits on the head; only the last four shots can count as hits on the body. Extra (make-up) shots are not allowed.
Open-top retention holsters (e.g., Blackhawk SERPA, Safariland ALS) add an additional 0.50 to the shooter's time unless the shooter wears a concealment garment. (e.g., if the shooter scores 7.00 seconds with no misses, his calculated score is 7.50 seconds total)
For duty gear, using both a standard duty retention holster (e.g., Safariland SLS, SSIII) as well as flap/retention magazine pouches awards a 0.50 reduction in recorded time. (e.g., if the shooter scores 7.00 seconds with no misses, his calculated score is 6.50 seconds total)
Ranking:
10+ seconds:

Novice

less than 10 seconds:

Intermediate

less than 7 seconds:

Advanced

less than 5 seconds:

Expert
Give it a try and let us know how you do!
Training with firearms is an inherently dangerous activity. Be sure to follow all safety protocols when using firearms or practicing these drills. These drills are provided for information purposes only. Use at your own risk.
photo coutesy of Jack-imageX, used with permission