14-Feb-14 – 18:19 by ToddG
Taken apart and ready to be reworked.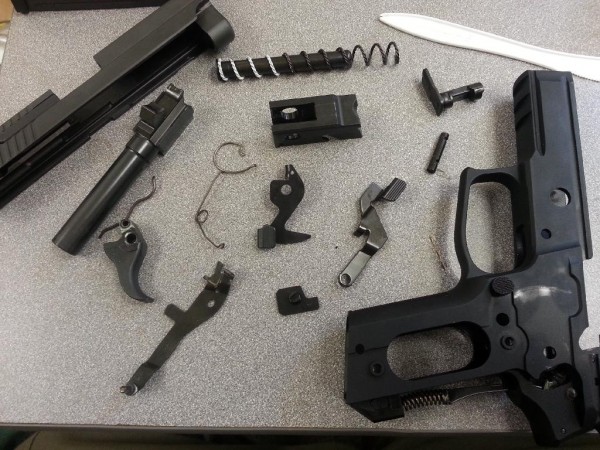 Train hard & stay safe! ToddG
21 Responses to "SIG P229 Test Gun: Before"

That pic makes me appreciate the simplicity of a Glock.

By Michael Peckerman on Feb 14, 2014

If I were a department armorer, sure. But as a lone end-user who'll detail strip the gun once every 10k rounds the difference is just not meaningful.

The biggest difference is that Glock's trigger mechanism isn't something most people break down into its components so all the little parts and pins in the trigger, the bar itself, the housing, the connector, the trigger spring… they look like one part.

Mine is going to be wearing Lasergrips instead of the E2 grips it came with so that's eight extra parts! Four grip screws and four washers.

By ToddG on Feb 14, 2014

FWIW: With the new 229-1 frame, which uses wider mags so the metal frame walls are thinner, you may have to trim down the grip screws so they don't bind on an inserted mag.

By JV on Feb 14, 2014

They use the same screws as the 40/357 frame guns.

By ToddG on Feb 14, 2014

Noted, thanks.

By JV on Feb 14, 2014

Are you gonna run a standard DA/SA trigger system?

By Andy Gore on Feb 15, 2014

Well, it's getting a trigger job and an SRT (short reset system developed by SIG and available on many of their guns straight from the factory) but it will be a TDA (DA/SA) setup, yes.

I'm really looking forward to getting back to my roots as a dedicated TDA guy. I continue to believe it's one of the best choices for a carry gun.

By ToddG on Feb 15, 2014

Todd: As someone who has never quite had the courage to detail strip a SIG, let me ask you what the plastic knife is for. Is that a detail-stripping tool, or is that a subtle way of mocking a lot of pistol photographs with their inclusion of pocket knives?

By SteveJ on Feb 15, 2014

I didn't take the pic and I didn't disassemble the gun so I couldn't say. Sorry.

By ToddG on Feb 15, 2014

Weird question… why is the spring two different colors? Is it different materials to provide a progressive rate, or a coating for one reason or another?

J.Ja

By Justin James on Feb 15, 2014

Simply an identifier so you can tell at a glance it's a P228/P229 9mm recoil spring.

By ToddG on Feb 15, 2014

Neat, thanks! I learn something new every day!

J.Ja

By Justin James on Feb 15, 2014

What is TDA and why is it desired?

By Franky2Shoes on Feb 15, 2014

TDA = Traditional Double Action, often called DA/SA (Double Action Single Action).

I like it because the first shot, while a little harder to master, adds a degree of safety both during normal handling and during PID/engagement for the first shot. Then after that heavier, longer first shot you end up with a trigger that's usually shorter and lighter than you'd get with, say, a stock Glock or M&P for all the rest until you decock to move, holster, etc.

There are trade offs. But the TDA is so maligned by people who don't understand it or haven't taken the effort to learn it properly that most of the information you'll read about it isn't worth the electricity needed to keep it on your computer screen.

By ToddG on Feb 15, 2014

A nice choice and I am looking forward on the first reports. I think this gun will not survive 50k Level like the other guns in test.

By Ulli on Feb 15, 2014

re the spring – in addition to identifying the model of pistol it is appropriate for, it also helps indicate the correct way to put the spring onto the guide rod. Take a close look and you'll see that the ends of the spring are different. Same for the 226 and 239 also. Formally, the springs only go on one way. I've had the spring on back to front and it interfere with the take down lever, preventing it from rotating. That was an interesting learning curve. If it happens to you, the trick is to lock the slide back and manually rotate the guide rod incrementally until the take down lever is clear of the spring end.

I changed the trigger on my 229 to SRT it's a simple, but very effective modification. Enjoy!

By GrantG on Feb 16, 2014

I'm liking the resurgence of DA/SA by so many.

By fixer on Feb 16, 2014

Todd: I see that Bill Riehl is doing the work on your 229 and is describing what he is doing on Pistol-Forum. That is one of the best threads I've ever seen on the Internet, and you really ought to link to it here–the lessons it is teacing go far beyond SIGs. (I also think that you are going to end up with a pistol that is better than the best tuned Sigs you can obtain commercially).

By SteveJ on Feb 16, 2014

Steve — There will be a full accounting of Bill's efforts in a future blog post. It's obviously deeply impacting the test since the gun is getting such an incredible amount of post-production TLC and I think folks reading about the test need to know exactly what is being shot.

It's not an off the shelf SIG by any means now, but the changes have all been well within the production tolerance limits of what you could get straight from the factory (to the best of my knowledge).

It will, in fact, nonetheless be the greatest P229 ever. Until he does my second one in a month or so. 😎

By ToddG on Feb 16, 2014

Is this the next gun for the endurance test?!

By ksjghkjsdhfg on Feb 17, 2014

Justin James- The different white on the recoil spring identifies the tighter end of the recoil spring which must be seated on the guide rod. The other end is slightly wider and won't stay on the guide rod as well.

By Brad E.D. on Feb 22, 2014
Sorry, comments for this entry are closed at this time.