25-Feb-14 – 09:29 by ToddG
One question I get asked frequently in class is, "When do you use the safety?"
Now obviously you switch the safety off before firing. I think we've all got that covered intuitively. The question revolves more around when should you put the pistol back on safe. There are generally two schools of thought, and I am very deeply encamped in one.
School of Never: once the safety comes off, it stays off until you're ready to holster the gun again.
School of Always: whenever the pistol isn't being fired, the safety should go back on.
If you've been reading this website for any length of time, you can probably guess that I'm a huge practitioner of the latter approach. The same rules apply to a double-action gun that is normally carried in a hammer down, "decocked" double action condition. If the gun isn't pointing toward a target, it gets deocked (or put on safe).
What exactly does that mean, "pointing toward a target?" Essentially it covers two conditions and only those two conditions:
I'm actively firing rounds at a target.
I'm actively driving the gun toward a target that I intend to shoot.
That's it. Under any other circumstance, if the gun has been taken off safe (or a double action gun has been fired and left in the cocked condition) I'll safe/decock as part of my return-to-ready ritual. When I dismount the gun, when I'm not aiming it at a target, it gets put on safe (or decocked).
If I'm going to move with the gun in my hand, it gets safed/decocked. If I'm going to scan past the immediate downed threat, I safe/decock. And obviously if I'm going to holster, it gets safed/decocked.
Why wouldn't you do it this way? If you're scared that you'll forget to take the safety off when you need it, what you need is more and better training. If you're intimidated by the double action trigger pull on your pistol, what you need is more and better training. Running around with a light, short trigger increases the odds that you'll have an accident if you trip or simply perform a subconscious "trigger check" under stress… something I've seen experienced special operations and law enforcement veterans do countless times. You see it all the time in competition, too. This is a Master-class IDPA shooter running between shooting positions at a major match: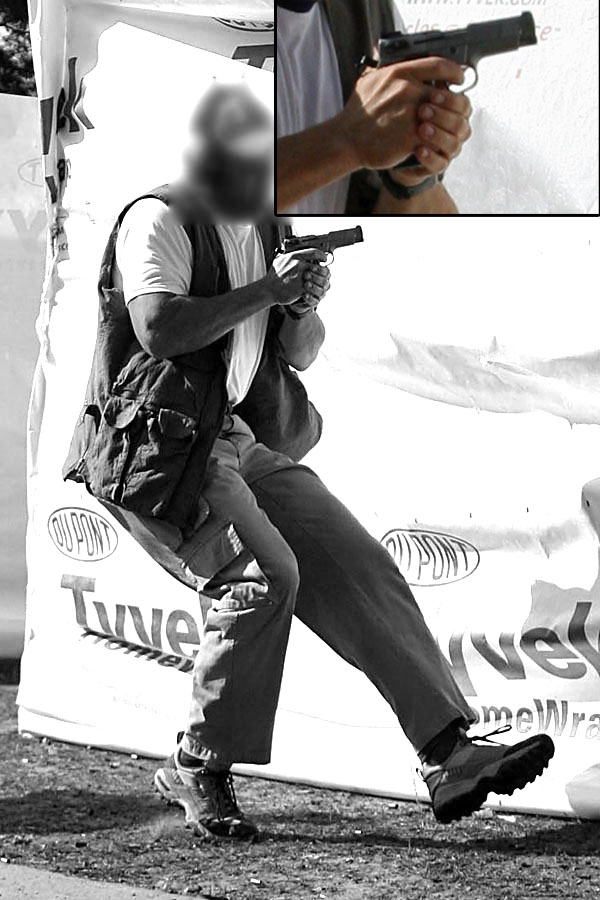 That dedicated competition gun probably has a 2-3 pound trigger pull in single action. How little effort will it take to cause an accident? (If you answered "2-3 pounds" you win)
Obviously, not all guns have an option to be put on safe or be put in double action mode. Most striker fired guns such as Glocks and (most) Smith & Wesson M&Ps are that way and people choose them in part because they don't want a safety and don't want to deal with a double action shot. That's a personal choice and I can't say it's a bad one. If you look at the endurance test guns I've used in the past, the first four (S&W M&P9, HK P30 LEM, HK45 LEM, and Glock 17) made this whole discussion immaterial because they had no manual safeties and they couldn't be decocked. Of course, none of them had trigger pulls below five pounds. And regardless of what some folks might want to tell you, a five and a half pound trigger pull is substantially different in terms of inadvertent contact accidents than 3.5#.
So if you do decide to choose a cocked & lock or traditional double action pistol, the safety or decocker on your pistol is there for a reason. If you find it a hindrance to your ability to shoot well, the answer isn't to ignore it or run from it. Learn to operate the gun properly and benefit from the advantages it gives you.
Train hard & stay safe! ToddG