17-Nov-08 – 01:00 by ToddG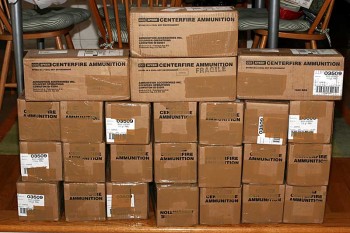 58,970 rounds
2 stoppages, 0 malfunctions, 2 parts breakages
As promised, this week we got back on track with the heavy-duty shooting schedule … almost 2,600 rounds! Luckily, as you can see pictured at right, the latest shipment of ammunition for the test arrived just in time!
Not that it should surprise anyone at this point, but no stoppages or other problems were experienced.
Even with all that shooting, we still had time to get some of the details worked out on the long-awaited pistol-training.com limited edition M&P9 from Smith & Wesson. The big news this week is that the project is definitely going to happen. Smith is sending some proposed artwork for us to choose from. Special thanks to our friend lindertw for drawing up the initial artwork proposal, and of course thanks as always to David for the new logo. We should have pricing worked out soon and with any luck, guns will be produced before the year is out. Obviously, we'll report more details here as they are finalized.
Next week will mark both the 60,000th round through the gun and seven months of testing. Look for our usual 10,000-round accuracy test as well as some detailed pictures of the wear points on the test gun.
Train hard & stay safe! ToddG
Previous entries: