1-Mar-14 – 09:17 by ToddG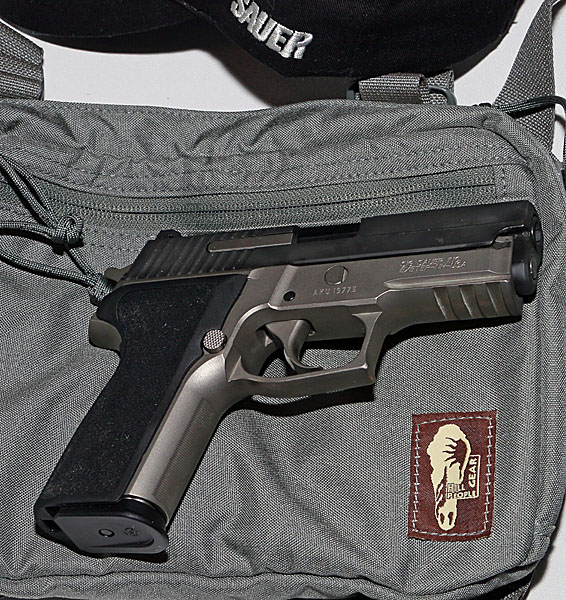 (Riehlized SIG P229-1 and Hill People Gear Runner's Kit Bag)
When will the P229 have its first stoppage?
We're going to do this a little differently this time. The gun will be purposely abused by doing no cleaning and no lubrication unit it finally has its first stoppage. And it's already had 640 rounds through it since it was initially cleaned and lubricated.
Rules:
One entry per person. You cannot guess again once your number has been surpassed, or before your number is reached, or under any other circumstance. If you pick a number that has already been picked by someone else, you lose; you cannot guess again.
Entries are submitted via comment to this post only. No comments on Facebook or elsewhere will be considered.
Posting anything other than your guess disqualifies you permanently.
The email address you use when posting the comment must be valid. If we cannot reach the winner, the next closest guess wins.
We'll use Price is Right rules. Whoever guesses closest without going over is the winner.
For purposes of this contest, "stoppage" will apply to the first instance in which the SIG test gun fails to go completely through its normal cycle of operation, except for stoppages which are determined by

pistol-training.com

to be ammunition-induced or shooter-induced. Essentially, anything that earns stoppage, malfunction, or breakage in the tally being kept each week.
Guesses must be numerical, you cannot pick a date or "never."
No purchase necessary. Contest and offer void where prohibited by law.
Keep in mind that the gun has already fired 640 rounds without flaw.
Prizes:
Pick the exact round count at which the stoppage occurs and you win a certificate good for one free complete gun refinish in either silver or black using Riehl's new next-generation gun finish ($400 value).
If no one picks the exact round count, whoever comes closest without going over will win a

pistol-training.com

hat and a gift certificate good for one free application of Riehl's self-lubricating anti-corrosion finish to the internals of his pistol just like the test gun has ($100 value).
Train hard & stay safe! ToddG