19-Mar-14 – 05:57 by ToddG
If you teach basic CCW, do you teach those first time students about sight alignment and trigger control and breathing and the other fundamentals of marksmanship?
If you answered yes, are you properly addressing your audience? Odds are, probably not.
This might come as a shock to anyone who's been reading this website for a while and certainly for anyone who has attended one of my classes like Aim Fast, Hit Fast or Aim Fast, Hit Small because I am all about sighted fire and visual control of the handgun. Students hear me talk all the time about how it's eyes focused on sights, not grip or stance or cadence, that determines how fast you can shoot and how accurately you can shoot fast. I don't teach, advocate, or like "point shooting" or "target focused shooting" or whatever folks are calling it this year.
Unless I'm teaching to the 99% instead of the 1%. Which I don't do often, thankfully. But a few times a year I get asked to do a private class for a friend-of-a-friend who turns out to be some VIP (Congressman, business exec, etc.). The first thing I ask these folks is whether they intend to practice regularly or even come back to the range once a year. The ones who are honest say no. They're not going to become shooters. They're gun owners. And there is a huge difference between the two.
Look at the photo below. That's what people see when they're first learning to use their sights: doubled targets and visual confusion. Who is going to excel under those circumstances? And let's face it, until sighted fire becomes so ingrained that it's habitual — which takes a lot of practice — people simply aren't going to do it to anyway. So again, if we know that the typical CCW guy isn't going to use his sights when he needs them, why do we spend so much time teaching him sighted fire and marksmanship fundamentals?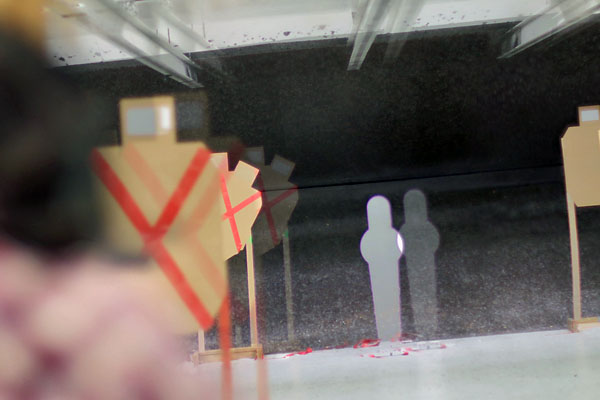 The answer is that we don't adjust to our audience. Serious shooters like us use their sights so we train people to be like us. But most of those CCW students aren't like us. And teaching them about front sight, trigger press! is like teaching a McDonald's cashier about global economic theory or the agronomy of potatoes before she can ask, "Would you like fries with that?"
When one of these non-shooters, whether he's a MLB star or Joe Sixpack, comes to class and clearly demonstrates no desire to train regularly I don't bother talking about sights or how to press a trigger. We talk about safety… a lot. Then we hit the range for some simple drills to get used to the gun making loud unpleasant noises. I want the student to get comfortable with a gun going off in the hand, and then build his confidence in an ability to point the gun toward a humanoid target and hit it in the chest (or thereabouts) with some degree of rapidity.
Then, if there's a little extra time and a little extra ammo, maybe we'll talk briefly about sighted fire for greater accuracy. Because maybe, just maybe, the student will catch the shooting bug and want to get better. But most basic CCW students are always going to be gun owners, not shooters. And as instructors we owe it to them to teach them things they can actually use instead of things we want them to learn.
The next time you teach a class, ask yourself a simple question: are you teaching to the audience you want, or the audience you really have?
Train hard & stay safe! ToddG