3-Apr-15 – 12:03 by ToddG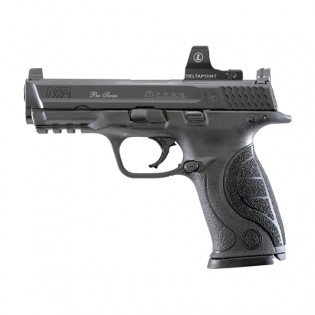 A never-ending topic of discussion these days is the pistol mounted MRDS (mini red dot sight) that is becoming more popular among shooters. As with so many things, it's yet another "All or Nothing," with too many people believing they're best or worst under all circumstances for all shooters. And as usual, that's just stupidly wrong.
For those not familiar with the MRDS, it is an optical sight that has no magnification and produces a red dot (usually battery powered) as an aiming point on the lens. The optic is mounted to the pistol's slide and moves just as the slide does during recoil.
There are some undeniable benefits to an MRDS. The biggest is that it allows a shooter to focus on the target yet still see an aiming reference. There is no need to choose between the front sight and the target. You look at the target and the red dot is just there. For the majority of pistol owners who aren't going to achieve the level of skill & discipline to choose the front sight under extreme stress, it essentially combines target-focused shooting with aimed shooting.
The MRDS also benefits shooters whose eyesight no longer allows them to get a clear sight picture with iron sights, particularly those who are far-sighted. Any sight is better than no sight.
There are some undeniable disadvantages to an MRDS, also. And the biggest of those is that the sight has a fairly narrow "viewable angle." When the gun fires, the dot disappears as the slide cycles and rises in recoil. It comes back into view once the slide is back in battery and is relatively level along the eye/target line of sight.
This is a video I was quickly able to find on YouTube that demonstrates the "disappearing dot" quite well. You can skip to the 8m 30s mark to see exactly the problem.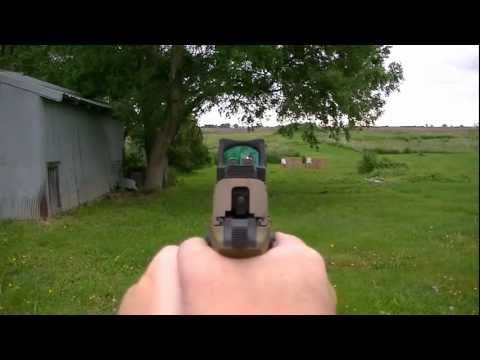 Advocates of the MRDS often try to compare it to a rifle red dot scope, but that's invalid. A rifle's recoil arc is substantially less because the rifle has four (thanks SLG!)  points of solid contact rather than being controlled solely by the arms. Similarly, comparisons to IPSC Open-style guns are wrong because (a) the red dots on Open guns aren't moving back and forth on a reciprocating slide and (b) the Open guns have compensators which keep the muzzle level during recoil.
For beginning and intermediate-level shooters the "disappearing dot" is no problem because they normally lose track of iron sights in recoil, too. But for more experienced shooters who understand proper sight tracking — keeping visual control over the gun through the entire arc of recoil — the MRDS actually slows them down. Instead of following the aiming point as it comes down from recoil as they'd do with an iron front sight, they must wait until the gun is level enough to make the red dot visible. Only then can they adjust their aim as necessary and press the next shot.
We all agree that blinking every time you fire the gun is bad. But somehow MRDS proponents don't mind that their sight blinks in and out of sight with every shot. Curious.
The dot also disappears as things other than recoil make the gun move around. The best example of this is, not surprisingly, movement. While it's easy to keep the gun very level when moving in straight lines (forward, back, left, right) at a controlled speed, it's a lot more complicated when you're moving in more realistic and dynamic ways. The drill where I've seen students get really frustrated with the MRDS is the Figure-8 Drill:
When the dot isn't visible, you have to wait on it before you can shoot. With an iron sight, the front sight is always right there where it's supposed to be. With the MRDS, the dot is only visible when the gun is relatively level.
The other major issues with MRDS are their visibility under certain weather conditions and their durability. These are problems which are both likely to be addressed as the technology advances.
For the vast majority of shooters, the MRDS is an advantage. It allows them to aim precisely when they'd otherwise get too rough (or no) sight picture for the needed shot. If I were outfitting a large police department or military unit with pistols, I'd want to put MRDS on those guns. It simplifies teaching and delivers acceptable performance with less time & effort expended.
But the MRDS, because it appears and disappears as the gun moves in recoil, has a lower performance ceiling than iron sights. In other words, your maximum potential speed with the MRDS is less than your maximum potential speed with an iron sight. That's why pistol shooters tend to eschew the MRDS as they get more skilled, at least for close to moderate range shooting where speed is as much a factor as accuracy. (at longer distances, even the best pistol shooters tend to find that they can extend their bullseye range using the more precise, smaller aiming point from the MRDS compared to an iron front sight)
Of course, many fans of the MRDS don't want to be told that their improved performance is due to a lack of shooting skill. I've even had one proponent claim that sight tracking was impossible and made-up! Seriously. They don't want to hear that they're not yet in the top five percent. Because as I've said before, 95% of shooters believe they're in the top 5%.
If the MRDS lets you do what you want to do better than an iron sight, than the MRDS is good for you. That doesn't mean it's the best choice for everyone under every circumstance. And the reverse is also true. Just because you might have the skill level to eek a little more performance out of iron sights than an MRDS doesn't mean that everyone is being held back the same way. Find what works best for you and don't fall into the trap of assuming it's the best for everyone else.
Train hard & stay safe! ToddG
(Smith & Wesson M&P C.O.R.E. photo from smith-wesson.com;