1-Apr-15 – 00:01 by ToddG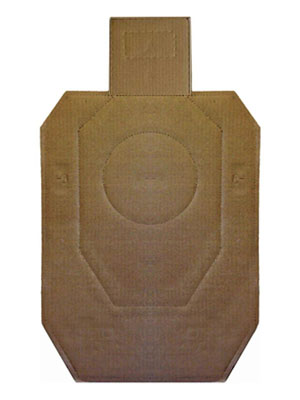 After more than a decade of rancorous and sometimes hostile co-existence, today the U.S. Practical Shooting Association and the International Defensive Pistol Association are announcing a joint restructuring that will merge the two organizations by the end of Summer 2015.
The combined organization will be named the American Run & Gun Handgun Sport. The sport will utilize an easily recognized target that has the same overall size and shape of both the USPSA and IDPA target, using the lower scoring zones from IDPA and the upper A & B scoring zones of USPSA.
Realizing that the two games had far more in common than most competitors wished to admit, their respective Boards of Directors have been meeting secretly since this year's SHOT Show to bring a big tent, uniform approach to competitive action pistol sports. Rulebook proposals will be sent out by the end of June to current USPSA members for comment, and the final rulebook will be delivered to IDPA members in July so they can read it.
ARGHS will start with four Divisions:
Play; this division is intended for the majority of competitors who simply wish to enjoy a day of shooting in a competitive environment and will accommodate most common sport handguns.
Operate; a division dedicated to low profile tactical operations from concealment and/or anyone named Timothy, Operate will require competitors to shoot from behind barricades rather than run past them and perform all reloads while crouching.
Race; the Race division is specifically designed for handguns that no one would use for any reason other than an ARGHS match and/or someone who places a loaded magazine in a front pocket, will require all movement to be performed at a full sprint, and shooting from barricade positions must be performed while standing on one foot only.
Revolve; the rules for this division have not been finalized at this time because Jerry Miculek hasn't told us what they will be.
The game's classification system will be dependent on Division. For Play and Race divisions, shooters will be given a chance to shoot the same stage as many times as they want until they get the score that gives them their best possible ranking. For Operate, competitors will be forced to shoot an extensive course of fire covering skills that primarily have nothing to do with ARGHS matches. And Revolve division entrants will all be ranked Novice except for Jerry Miculek, who will simply be ranked National Champion Again.
Current USPSA and IDPA memberships will automatically become ARGHS memberships on September 1st, 2015.
Train hard & stay safe! ToddG