3-Apr-15 – 03:22 by ToddG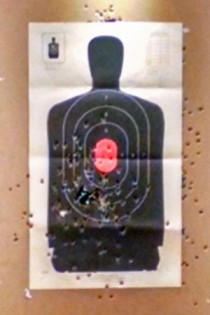 The photo on the left is something we've all seen countless times at the range: one target that has absorbed dozens, sometimes hundreds of rounds without any accountability. While it's fine if you're just out for a day of making noise and empty brass, from a training standpoint it's not accomplishing much.
If you don't know where your rounds are landing during live fire practice, there's little point in live fire practice.
How do you determine if your last shot was good or bad if you don't know where it landed? Sure, you can talk about calling your shots but the guy who only hits the bullseye once in a blue moon on pure luck isn't calling shots. He's just plain missing a whole lot. And he doesn't know which shots are good and which are bad. He's not getting any valuable feedback. And he's not accountable shot for shot.
Paper and cardboard targets are inexpensive. Target pasters are inexpensive. There's no reason to launch countless rounds downrange without knowing where they're landing.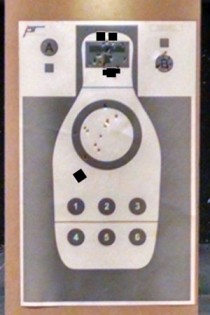 Personally, I typically use what is called "negative taping." I don't tape good hits in the scoring zone — because a good hit is a good hit — but I tape up all my misses. That way I'm always aware of a miss and my target is clean every time I start to shoot. The target on the right is an example of what I mean. At the end of an exercise, I can easily count up the misses and know how I did. For example, if I do 10 Bill Drills and six of my shots are outside the scoring zone, I know I got 54 hits and 6 misses, or 90% of my hits.
Leaving the good hits untaped saves me time and pasters; taping the misses means I am always accountable — and counting — my hits so I know when I'm hitting and when I'm not. I get simple quantitative feedback from the target that lets me know how I'm doing.
Some practice drills I want to get 100% of my hits. On others I may be pushing my speed and accept 90%. But if I cannot actually count hits and misses, it's all just guesswork. And sometimes I want to know exactly where all my shots are landing, so I'll paste every shot whether it was inside the "zone" or not. For example, if I'm shooting groups then I want to know (a) how big the group was and (b) how well I'm calling every shot.
I've been to far too many classes where targets never get replaced or taped. You just launch bullets downrange and get to tell yourself whether that last iteration of a drill was great or not. Worse, sometimes multiple students will share the same target and then it's even harder to tell how you are doing because someone else's bullet holes are all over your target. In either case, it's all just chaos and fantasy. And the messier the target gets, the easier it is to accept lousy hits.
Take a moment between drills so your target actually tells you something about how you're shooting.
Train hard & stay safe! ToddG