21-Apr-15 – 18:59 by ToddG
I know. Cleaning Guns by Todd Green is like How to Have a Successful Marriage by Tiger Woods. I clean my pistols every 5,000 rounds or so whether they need it or not.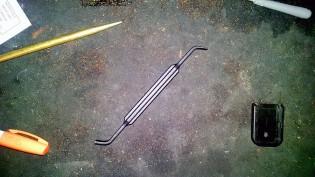 Someone at the NRA Headquarters Range turned me on to this little plastic doodad a while back and I have to tell you, it works exactly as advertised. The Channel Cleaning Tool by Calbico is one of those things that looks so simple you won't believe it really works.
I can't count the number of q-tips, toothpicks, and other household junk I've used up over the years trying to remove the kind of worn in, burnt on residue my guns often see from the abuse they get. There are two different sized ends (one narrow and pointy, the other wider and blunt) intended to handle just about every task you can imagine when it's time to clean.
And believe me, this thing really works. The first time I tried it on my Burton 9mm 1911 Commander it was amazing how much residue it pulled off the slide rails and how easy it was to reach the little nooks and crannies in the gun without having to take anything apart. One bore patch, a little cleaning solution, and pow … clean gun.
Then I even went so far as to clean a Glock with it and … did you know that Glocks accumulate shooting debris? I never even realized. But in about a minute it was all stripped from the slide and the gun was actually clean. A Glock!
These things are silly inexpensive ($9.95 direct from Calbico, plus actual shipping which for me works out to $2) and available from Brownells, Wilson Combat, and possibly even the local gun shop near you. I keep one on my workbench and one in my range bag.
Train hard & stay safe! ToddG