27-Apr-15 – 16:56 by ToddG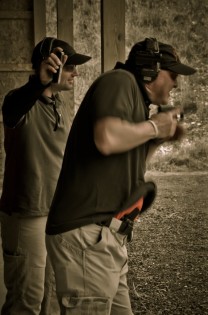 Darren LaSorte is a genuinely good guy. Scratch that, he's a genuinely awesome guy. He has spent most of his adult life working full time in jobs to promote & protect the Second Amendment freedoms that we enjoy, in particular as a key member of the NRA's Institute for Legislative Action.
This morning, one of the NRA's publications posted an article by Darren on its website. The article, called The Appendix Carry Craze, was pretty much a perfect example of the "All or Nothing" issue that pistol-training.com has been discussing for the past few months.
Darren doesn't like aiwb. He's tried it and it didn't work for him. So he's not going to do it anymore.
So far no problem.
It didn't work for him.
He's not going to use it.
Reasonable. Smart. Totally understandable.
But then he goes on to explain that it's painful not just for him but for everyone (he refers to aiwb carriers as "masochists"). He also seems to believe that aiwb carriers — again to quote — "are becoming more like a cult than a group of gun owners concerned for their safety and that of others."
Come on. Really?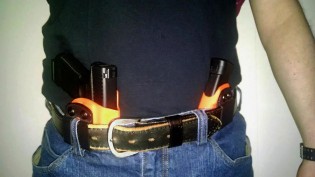 If it doesn't work for you, don't do it. But don't be so silly as to tell many of us that it's not working for us when we seem to go about our days all over the country in every imaginable mode of dress and every imaginable environment carrying every imaginable gun comfortably and discreetly. And if you can't even manage to carry a gun that way for a day, please don't tell me about its tactical disadvantages because perhaps those of us who do it every day have a little deeper understanding.
Finally, I'd like to address one particular line from Darren's article: "The devotees of the relatively recent appendix carry craze disagree with me."
You know all those drawings you've seen of people from a gazillion years ago with their black powder pistols shoved down the front of their belts? That's how old appendix carry is, dude. It literally pre-dates holsters. The first dedicated appendix holster was probably the Summer Special by Bruce Nelson, which was only later modified to be a behind the hip holster. So aiwb is nothing new. People have been doing it basically as long as there have been guns small enough to wear on a belt.
Doesn't work for you? Don't do it. Works for me, though. So I will.
Train hard & stay safe! ToddG