School Review: Rogers Shooting School
by Todd Louis Green


Nestled away in the hills of northern Georgia lies a narrow concrete driveway, unnoticed by passerby on the winding road.  No banners, no announcements, not even a street sign invite you in.  Then, half way up the wooded path you see the marker for "Rogers Range Road" and you know that you have arrived at one of the most prestigious and exclusive shooting schools in the country.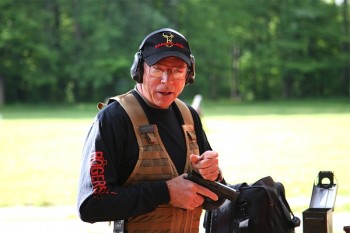 Established more than twenty years ago by former FBI agent Bill Rogers, Rogers Shooting School has hosted almost every special operations military unit, SWAT team, and firearms training cadre you've ever heard of … and scores you haven't.  Rogers has put his knowledge as a law enforcement officer, champion competitive shooter, and accomplished designer into a program that literally pushes you to the very limit of your ability for four and a half days.
In May 2008, I took my third Intermediate/Advanced Pistol course from Rogers.  It had been five years since my last trip to Ellijay, GA and it quickly became apparent that there was some dust that needed to be knocked off my skillset.  The class began with a total of ten students and ended with nine, one student leaving after the second day.  About half the class was law enforcement, the other half was private CCW holders and competitive shooters.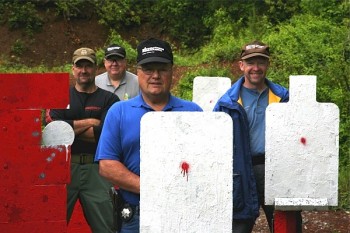 The instructor cadre (shown left, listed here from left to right) was rounded out by Kyle Armstrong, firearms instructor and SWAT team member for the local county police department; Ronnie Dodd, retired police officer (and a fellow student of mine when I attended the school in '03); "Rosie" Rosell, US Navy, retired, who has been serving as rangemaster and resident gunsmith at the school since before the dawn of time; and Claude Werner, Army veteran and primary instructor for our class.
Cost of the class is $1,000 for the week, which includes lunch & dinner every day.  There are a couple of hotels in Ellijay, or instead students can opt to stay at the lodge for an additional $75 which gives you a bunk for the whole week as well as breakfast every morning.
To understand Rogers Shooting School, you must first understand the target system.  There are no paper or cardboard targets at Rogers.  There are no bullseyes and no silhouettes.  Each student shoots on a lane that faces seven disappearing head-sized steel plates at ranges from seven to twenty yards.  Each plate is controlled independently by a computer system, rising and falling at predetermined intervals.  At Rogers, you don't shoot as fast as you want.  You shoot fast enough to knock down a plate before it disappears, or you miss.  Some people miss a lot, until they settle down and listen to what's being taught.

The Rogers Range in motion … all seven targets appear and then disappear.