20-Jan-08 – 19:45 by ToddG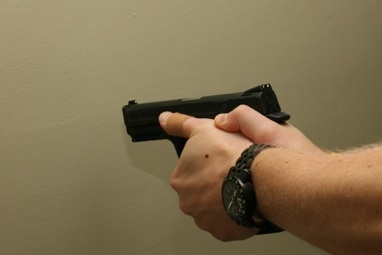 Over the past few weeks we've worked on getting smoother and faster. Invariably, when shooters focus on their speed they start to lose a certain degree of precision. This week, we will address that with a great dry-fire drill called The Wall Drill.
The Wall Drill was developed by George Harris and is one of the most effective ways to perfect your marksmanship fundamentals.
Like any dry-fire drill, it is critically important that you follow proper precautions. First, you must always obey the Cardinal Rules of Firearms Safety even during dry-fire practice. Also, all weapons must be completely unloaded and double-checked before the start of this drill.
Once you have cleared your weapon and verified both visually and physically that it is empty (twice), remove all ammunition from your training area and find a wall that can serve as a proper backstop in case of an accident. The wall should be blank, with no visual distractions and most importantly nothing to "aim" at during the drill.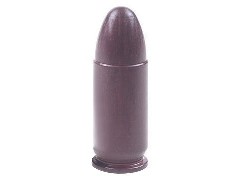 (pistol-training.com also recommends that you use a snap-cap, such as the A-Zoom Action Proving Dummy sold by Lyman pictured on the right, to protect the internal parts of your handgun from excessive and unnecessary wear)
Holding your unloaded pistol in a normal shooting grip and stance, press the muzzle to the wall until it just barely makes contact, then back off about an inch. Because you are using a blank wall as your backstop, you effectively have no target. There is nothing for you to focus on except your front sight.
From this position, practice your trigger manipulation. The goal is to press the trigger straight back with consistent pressure until the "shot" breaks without disturbing your sight alignment throughout the process. Remember, that is the key to accuracy — a proper trigger press that doesn't mess up your sight picture.
If your front sight moves around or "hops" as the trigger breaks, slow down and pay more attention to your grip and finger movement. Are you putting pressure on the grip with your other fingers as you press the trigger? Are you pressing the trigger too fast or too hard, causing it to move at the last moment? Just work on keeping everything still except your trigger finger, and move your finger in a slow, smooth, relaxed trigger press.
Work on this for about ten minutes. If you are using a Traditional Double Action gun with both double- and single-action trigger pulls, give equal time to each. Work on this drill three to four times per week for a month. You are guaranteed to see significant improvement in your accuracy.
Also, if you find yourself getting a little too wild at the range during normal practice, and your shots just won't seem to come together into as tight a group as you want, clear your weapon and work on this drill using a target backer or blank spot on a large target as your "Wall." Never waste ammo by sending shots downrange in random directions. Whenever your accuracy suffers, spend a little time on the Wall.
This is a dry-fire drill; all weapons must be completely unloaded and double-checked before the start of this drill.
Training with firearms is an inherently dangerous activity. Be sure to follow all safety protocols when using firearms or practicing these drills. These drills are provided for information purposes only. Use at your own risk.