16-Apr-09 – 12:25 by ToddG
Talk to a few shooters, and you'll hear a lot of terms to describe the proper sight picture. Talk to enough shooters, though, and you'll hear those same terms used to mean different things for different people. That makes discussing a proper sight picture pretty complicated.
A regular contributor on SIGforum who goes by the screen name NavyGuy put together this excellent graphic: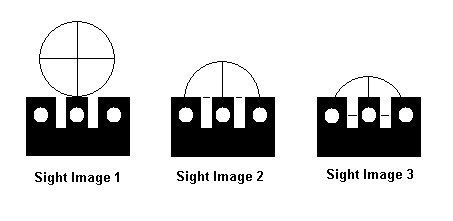 Some people prefer a "6 o'clock hold." Which one of the above images is that? Depending on who you ask, it could be #1 or #2.
Others shoot for "point of aim = point of impact." Which one of the above images represents that? Depending on who you ask, it could be #2 or #3.
How do you think gun companies zero their guns?  One guy will tell you that a company uses #2, another will tell you it's #3. Setting aside the fact that half the pistol manufacturers no longer bother to test fire or zero their pistols (especially the ones going to the commercial non-law enforcement market), I'm not sure how people come to these conclusions. I've worked for two different major handgun manufacturers and both would produce guns that sometimes got hits with #2, and others with #3. Why? Because the difference is so slight that it falls within the acceptable margin of error during the testing, and because the companies didn't have a formal method for testing.
For the record, #2 is the traditional "action shooting" sight picture that most experienced people refer to when saying point of aim = point of impact.
Personally, I've been using #3 (which I've always called driving the dot) for a decade. When I worked at SIG, the SIG Academy also taught this as an alternative for fast short-range work; Dir. of Training George Harris refers to it as float the dot & shoot the shot. In theory it should be less precise, but I've used it to hit targets at long range (>50yd) with a pistol many times.
Which do you use?
Train hard & stay safe! ToddG