2-May-09 – 12:10 by ToddG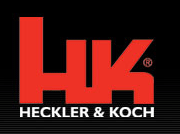 pistol-training.com is extremely proud to announce our 2009 50,000 round endurance test:
What happens when you take the reliable & established HK P2000 platform and infuse it with lessons learned from developing a next-generation military pistol like the HK45?
You get the P30, combining state of the art technology and ergonomics with proven functionality, safety, and performance.
While many people mistakenly assume that Glock was the first company to produce a polymer framed handgun, that innovative step actually belonged to HK with the VP70 almost forty years ago. The same is true for striker fired pistols, with the HK P7 being the first modern example of that design.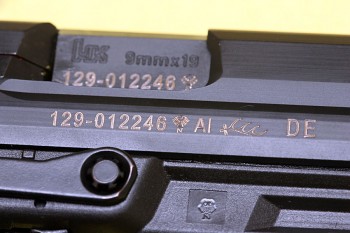 The 9mm P30 is the (slightly) big brother in HK's P2000 series. With a 3.86″ barrel and 15-round capacity, the gun fits in between the typical definitions of a "compact" and "full size" pistol. Unloaded weight (w/magazine) is 26oz.
Yesterday , the test gun arrived from HK's facility in Columbus, GA. After a quick photo session and a little Militec-1 for lubrication, it was off to the range. One thousand rounds so far. Detailed updates will be posted once a week on what we're calling P30 Thursday. Check back on the 7th to see how the gun performed during its first week.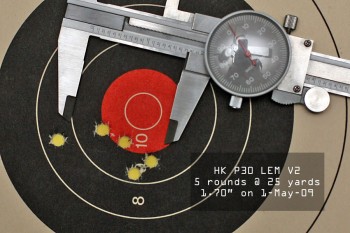 Initial accuracy was outstanding. Unlike previous accuracy tests, because there are no Crimson Trace Lasergrips available for the HK P30, everything had to be done with the standard sights. Nonetheless, the average of five 5-shot groups at 25yd was 1.92″ using Speer 124gr +p Gold Dot. Group size was incredibly consistent, ranging from a best of 1.70″ to a worst of 2.09″.
pistol-training.com extends its sincerest thanks to the folks at Heckler & Koch for its participation in this year's test.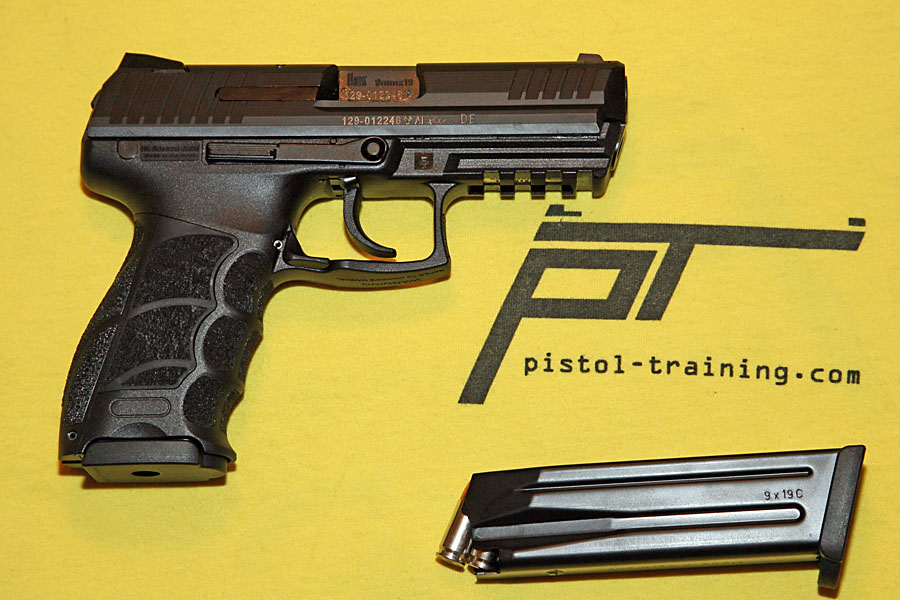 (and before you ask, yes we know the cartridges are in the magazine backwards … it's an HK joke)
Train hard & stay safe! ToddG