14-May-09 – 20:16 by ToddG
4,073 rounds
0 stoppages, 0 malfunctions, 0 parts breakages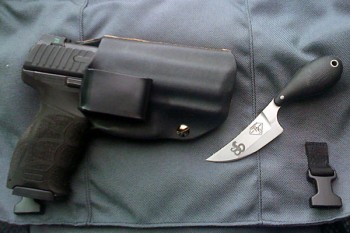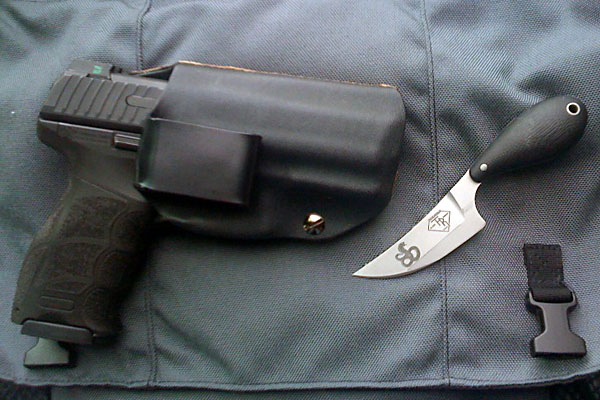 The P30 was pretty busy during the second week of testing, though the round count (not even 1,000 rounds since last week) might not look so.
The week started in Stroudsburg, PA for an Aim Fast, Hit Fast class. Great students and unexpected excellent weather made for an easy time shooting demos.
I could definitely use a little fine tuning now that I've transitioned to the P30 full time, though. I'm currently carrying it in a Custom Carry Concepts Appendix Looper.
This week the trigger mechanism was modified a bit. The firing pin block spring was changed to make the P30 a Variant 4 instead of Variant 2. The change was very easy, taking nothing more than a punch and hammer and the outstanding instructions from Big Bore on HKPRO.com. The trigger pull was reduced ten ounces and now measures 6 pounds, 10 ounces.
Today, the gun and I are in Montana for another Aim Fast, Hit Fast class for some federal, state, and local law enforcement officers this weekend. A little practice time at the range today included a federal agent (who is issued a Glock 22) picking up the gun and immediately running it as well if not better than the duty gun he practices with regularly. No question, the P30 LEM definitely is an easy gun to shoot well. (that's his Shiv Works Clinch Pick in the photo, above)
Thanks to the generosity of Julie Golob (nee Goloski), I was also able to run ten rounds of 124gr +p Gold Dot through her chronograph. Results were:
Average: 1,215 fps
High: 1,229 fps
Low: 1,195 fps
Standard Deviation: 9
Next week our report will come from the Federal Law Enforcement Training Center in Brunswick, GA. See you then!
Previous P30 Endurance Test posts at pistol-training.com: