5-Jun-09 – 17:36 by ToddG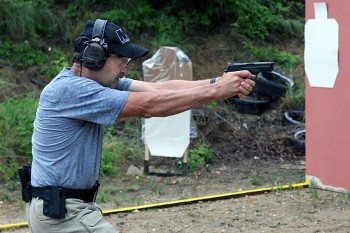 Earlier this week, I was shooting with Scott Warren (of Warren Tactical) and we worked on something he's adapted from one of Rob Leatham's drills. It's a pretty straightforward transition routine. You start with four steel chest plates at a range of 10yd, spaced three yards apart. On the buzzer, draw and engage one shot per target back and forth for 20 rounds. Goal is 100% hits in less than 10 seconds. Note that you do not "double" the targets on the end, you shoot them once and then reverse direction. So the sequence is: T1-T2-T3-T4-T3-T2-T1-T2, etc. There are no makeup shots. If you miss a plate, it's a miss … move on to the next plate.
 
We're planning to list this at the pistol-training.com Drills page, but there's a problem. The drill doesn't have a name. How can you list a drill that doesn't have a name? 
 
So Scott has offered to help us find a name. For 4 days, you can respond to this post with your idea for the perfect name to give this drill. Deadline is 11:59 PM EDT on Monday 8-June. Scott will choose the best suggestion and the winner will receive a free set of Warren Tactical sights. 
Even though you don't need to shoot the drill to offer up a name, you should shoot it to appreciate the training factor. It's easy to set up, and makes for a fast & simple drill to work your target to target transitions.
Please limit your suggestions to three (3) per person. 
So, let the names begin! ToddG