11-Jun-09 – 23:03 by ToddG
7,387 rounds
2 stoppages, 0 malfunctions, 0 parts breakages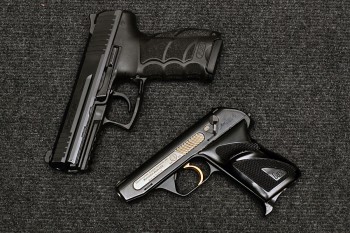 Some great news and some bad news this week.
First, the bad news: two extraction failures shooting NATO-specification 124gr Winchester FMJ ammunition. Simultaneously, the pistol began acting a bit weird during slidelock reloads (slide going forward on its own not just when the magazine was inserted, which rarely happens for me otherwise, but also occasionally when the empty mag was simply ejected). A call to HK diagnosed the problem as weak magazine springs, and they overnighted new ones to me. I'm happy to say the problems went away, as tested today during 700+ rounds of shooting everything from the incredibly soft shooting American Eagle 124gr Indoor Range TMJ to 124gr +p Gold Dot.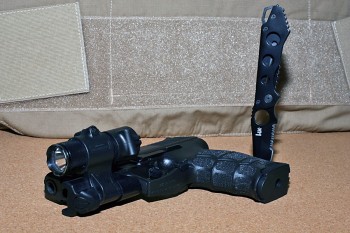 Next, the great news. Luckily, there is a lot of it.
Safariland has sent one of its RLS (Rapid Light System) gadgets for evaluation. The RLS lets you carry a normal handheld light via belt clip, but with just a simple motion it attaches to the Picatinny-style accessory rail on your pistol. After ditching the supplied Safariland-branded light for my trusty Novatac 120P, I've been carrying it for about a week. The RLS has its pros and cons. The only major negative from my perspective is that it is incompatible with my normal shooting grip, and trying to find a way to hold the gun without giving up the benefit of a two-handed hold — the whole reason for using a weapon-mounted light in the first place, after all — is tricky.
I pulled a best-ever P30 F.A.S.T. score this week, 4.47 clean. I'm consistently in the 4.50-5.00 range with the gun now. My personal record is 4.26 with the M&P9 about four months into last year's test. It will be interesting to see how the P30 is doing by that point.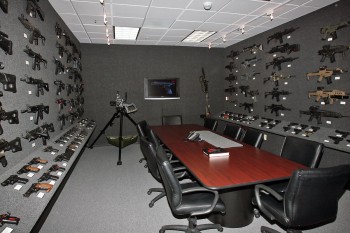 Today, I became the first certified P30 armorer in the United States. In fact, the program is so new they do not have armorer manuals printed up yet. And while I was at HK USA getting trained, I also had a chance to spend a couple of hours in the legendary Gray Room! So as a new feature of P30 Thursday every week, we'll be posting a picture of the endurance test gun along side one or more historic, famous, or prototype HK weapons. To start things off, the first such picture (at the beginning of this entry, click for larger version) is with an HK4, the first pistol the company ever produced.
Finally, we're very happy to announce that pistol-training.com is partnering with Atlanta Arms & Ammo, supplier to such prestigious folks as the Army Marksmanship Unit and Team Glock, for a big chunk of the ammunition that will be used in testing the P30. Thanks go out to everyone at Atlanta Arms & Ammo for their support! As the AA&A ammo starts to arrive, we'll be able to pick up the pace on the P30 test significantly. Our goal for next week: hit 10,000 rounds.
Train hard & stay safe! ToddG
Previous P30 Endurance Test posts at pistol-training.com: