30-Jul-09 – 23:44 by ToddG
22,077 rounds
7 stoppages, 0 malfunctions, 1 parts breakages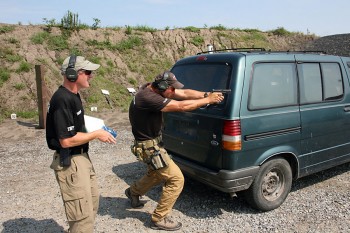 Busy week! It started with last Friday, the final day of class at U.S. Training Center's Tactical Pistol I class. Most of the morning was spent shooting IDPA-style scenarios like the one pictured at left (that's our primary instructor Jason Falla shooting, with USTC Chief Instructor Kyle Defoor running the timer). Round count for the whole morning was barely over 100 rounds. But then we spent the afternoon at the Rogers Range, and by the end of that I was well over 600 rounds for the day. Overall, the class was very good and you can expect to see a review of it here at pistol-training.com in the near future.
The P30 was not cleaned or lubricated the entire time at USTC, making it through the whole class with only the Militec-1 oil put on the gun before the week began. While there was one parts breakage (the trigger return spring, as mentioned last week) there were no stoppages or other problems of any kind.
Sunday, the P30 was used teaching the Practice Session at the NRA Range. Wednesday night I got in a practice session of my own. After just shy of 4,000 rounds since being lubricated, the pistol began to feel a little balky. I could feel when the last round fed from the magazine into the chamber, which is usually a sign that the gun is reaching the point where combined grime, grit, and dryness is conspiring to induce trouble. A few more drops of Militec-1 and the gun was back to normal.
This evening I got in another session. Ran the F.A.S.T. drill three times and shot a 4.56, 4.37, and 4.35 back to back, all clean. That 4.35 is a personal best with the P30, but still just a hair (0.09 seconds) off my best run with the M&P9 last year. The breakdowns for each run were:
4.56 clean: 1.60 draw, .44 split on 3×5 card, 1.88 reload, .22, .21, .22 on plate
4.37 clean: 1.47 draw, .39 split on 3×5 card, 1.91 reload, .22, .18, .20 on plate
4.35 clean: 1.44 draw, .38 split on 3×5 card, 1.90 reload, .22, .21, .20 on plate
Next week will mark the halfway point in the test, though we probably won't be quite at 25,000 rounds yet. Heckler & Koch has sent us all the parts they recommend for replacement at the 25,000 point … it's a surprisingly tiny number of parts, and almost all of them are springs. We'll provide more details when we hit 25k and actually swap the parts.
Finally, here is this week's Gray Room picture: The P30 endurance test gun along with a truly classic HK: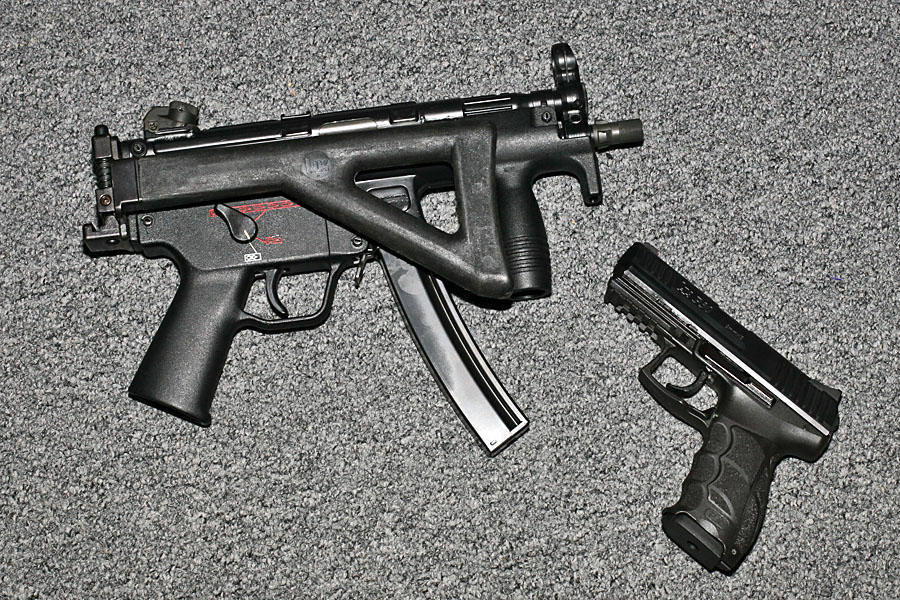 See you next week …
Train hard & stay safe! ToddG
Previous P30 Endurance Test posts at pistol-training.com: