13-Aug-09 – 23:59 by ToddG
26,737 rounds
7 stoppages, 0 malfunctions, 1 parts breakages
So the big news this week, obviously, is that we passed the 25,000 round mark! HK's Director of Sales, Mark Osborne, volunteered to shoot #25,000 and of course we were there to record the moment: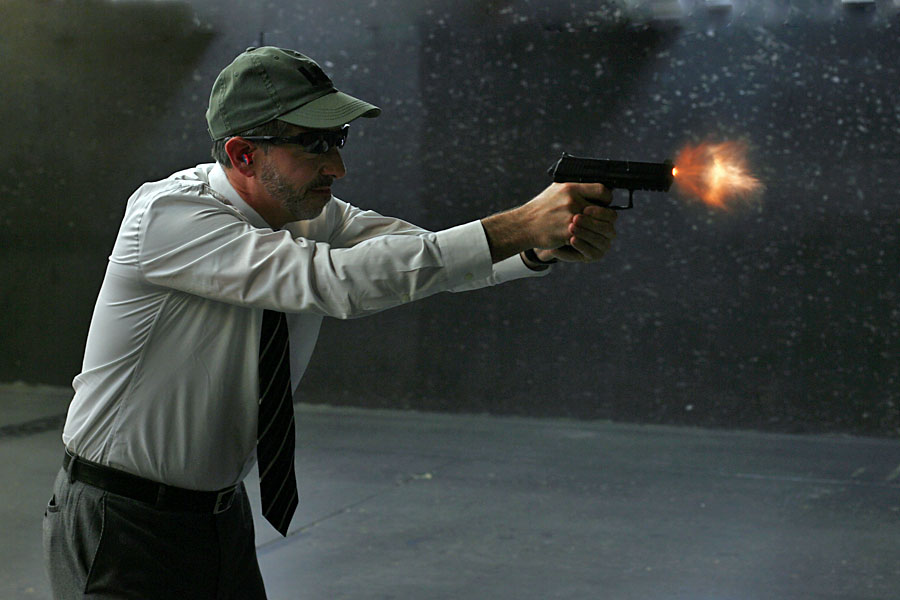 The day before that photo was taken, the P30 got its 25k maintenance performed. Parts replaced were:
trigger return spring
hammer spring
hammer strut
firing pin spring
recoil spring & guide rod assembly
That's it. With that, HK expects the gun to make it to 50,000 rounds. I've never owned a pistol that required so little in the way of upkeep. Changing the recoil spring just once every 25k … that's unbelievable.
On the other hand, I don't know that I'd want to be responsible for doing detailed work on the gun much more often. It is, to be blunt, difficult to take apart and put back together. Not a major problem for most users, but there are steps in the process which I swear were engineered for people with three arms. So while spending an hour or two per year performing maintenance on a pistol certainly isn't a lot, those couple of hours can be a little frustrating.
And to be honest, that is about the only real complaint I can lodge against the pistol. I can shoot it about as well as any pistol I've ever used, and better than most. It has proven, at least to me, that the oft-declared need for a short reset or low bore axis simply don't pass the smell test. Will a Glock or 1911 shooter need to practice to learn the longer reset of a P30 LEM? Yes. But lack of familiarity on their part doesn't equal lack of capability on the gun's part. Unless you get your kicks shooting blind "double taps" at close range to impress your buddies (or just to impress yourself), there isn't much this gun can't do. Earlier this week, I was consistently pulling splits in the .16's and .17's on Bill Drills.
The bore axis thing is a complete non-issue. Dozens of people have shot the test pistol and not a single one of them complained about excessive muzzle rise … including experienced shooters.
One thing missing from the 25,000 round report, sadly, is an accuracy test. I won't bore you with the details, but suffice to say that there were some issues completely unrelated to the P30 itself which made doing the test as scheduled an impossibility. Hopefully, there will be a "27,000-ish round accuracy test" posted in next week's report.
This coming week, the pistol will be in Culpeper, Virginia for an Aim Fast, Hit Fast class. If past experience is any indicator, a dozen or so people will take the P30 for a spin and we should get some smart feedback from a variety of shooters. Look forward to hearing more about that next Thursday, as well.
And finally, this week's Gray Room picture. Who can identify this unusual HK? (and anyone who says "P30" gets banned!)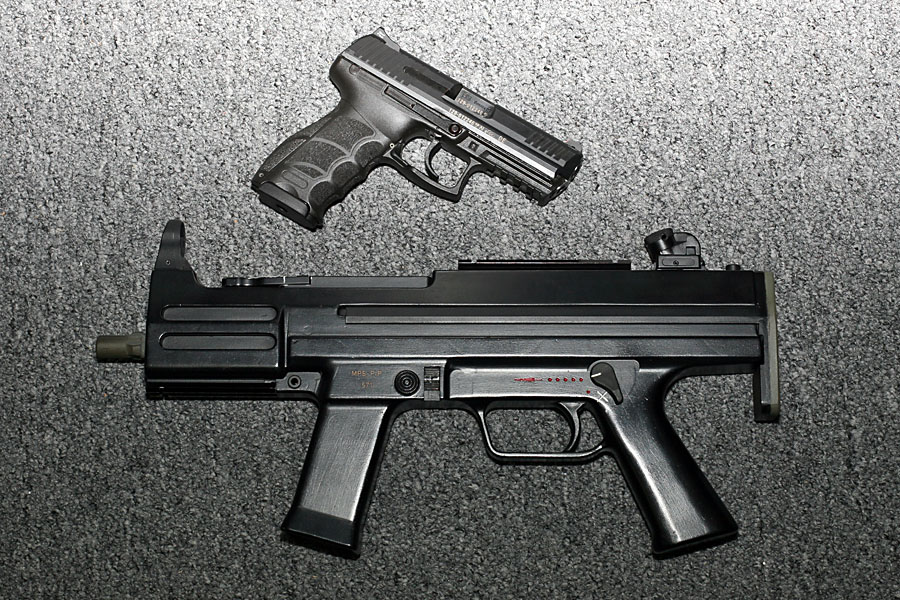 Train hard & stay safe! ToddG
Previous P30 Endurance Test posts at pistol-training.com: