12-May-08 – 22:07 by ToddG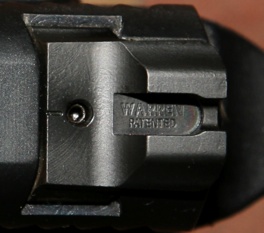 5,058 rounds
0 stoppages, 0 malfunctions, 0 parts breakages
As the M&P Test continues (50,000 rounds in six months), it took eighteen days to reach 5,000.  S&W sent a higher front sight to compensate for my "drive the dot" sight picture compared to the more traditional use of the top edge of the front sight.  Warren Tactical sent one of their rear sights, too, which will only be on the gun until the upcoming Warren night sight becomes available.  With the help of the people at Virginia Arms the gun is now perfectly zeroed.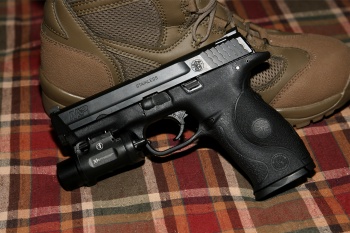 Here is the gun sporting the new XTI Procyon weaponlight sent to us by our friends at Insight Tech-Gear.  And yes, that is the fancy blanket here at the hotel in Ellijay, Georgia … home of Rogers Shooting School. As reported in the last M&P Monday, all week the gun (and I) will be down here at Rogers going through their intensive 5-day 2,500-round shooting program.
Details about both the class and how the M&P9 performed will be included in next week's report.  Three of our five instructors are carrying M&P's themselves, and it was gratifying when two of them expressed interest in getting the same "hard reset" trigger job I showed them on my personal gun.  All three of them are using Warren sights, too.  Here's a picture of Mr. Bill Rogers himself demonstrating a drill with his M&P9: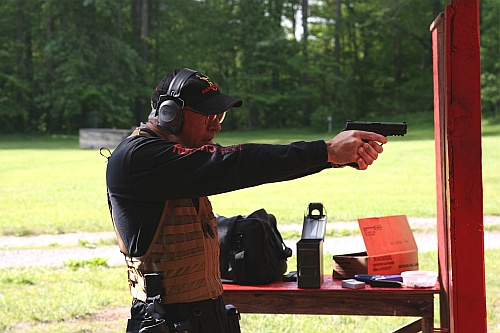 Look for a full report, including plenty of videos, next week.
Train hard & stay safe! ToddG