20-Jan-10 – 00:45 by ToddG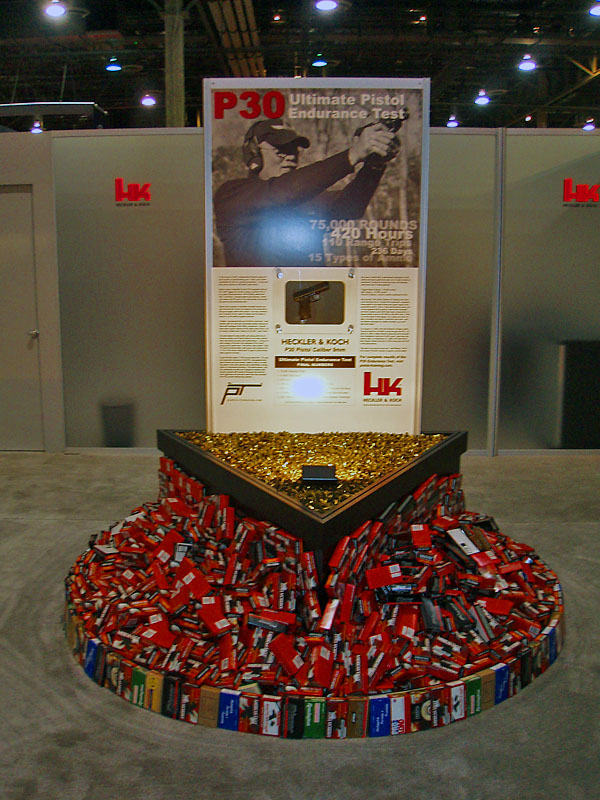 Seriously, that's a lot of boxes.
7 Responses to "P30 Endurance Test Gun at SHOT"

that's sweet. on a personal level it is too cool to see something i made on anything HK. it seriously gave me a goosepimple.

By David on Jan 20, 2010

After all your effort, they put Ken's mug on the display! lol!!

Oh well, if it had to be someone besides the guy who actually did the legwork, Ken is a good choice.

😉

By The_Katar on Jan 20, 2010

Is your picture on the back?

By Justin on Jan 20, 2010

The next time Ken Hackathorn lends his image to a project you guys are working on, you let me know. 8)

By ToddG on Jan 20, 2010

So they tell me you like Federal American Eagle…I don't believe them though.

By JD on Jan 20, 2010

After the P30 what is next on the roster for an endurance test??

By Steve on Jan 25, 2010

Steve — Right now, the focus is on finishing the remaining 25,000 rounds for this test. As that winds down, the next test will be announced.

By ToddG on Jan 25, 2010
Sorry, comments for this entry are closed at this time.