25-Feb-10 – 20:59 by ToddG
81,145 rounds
10 stoppages, 0 malfunctions, 4 parts breakages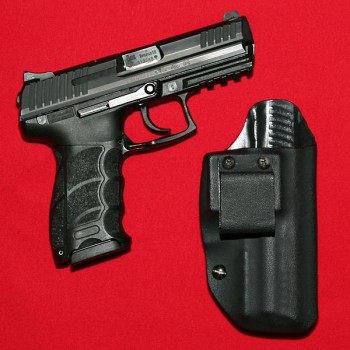 This past Monday, the P30 broke through the 80,000 round mark. The last 3,753 rounds have been without cleaning or lubricating… not so much to torture the gun, but because I just haven't got around to cleaning or lubing it. You have to respect a gun that lets you be so lazy.
For the past six weeks, I've been using a new appendix holster from Custom Carry Concepts. You won't find it on the CCC webpage, at least not yet. But the holster — which I call The Shaggy (the nickname of one of its designers) — has taken the place of the Looper for my everyday carry.
Whereas the Looper used its kydex belt loop to provide precision in terms of cant, ride height, and tuck, the Shaggy relies on the holster body itself to position the gun. It achieves this by being wider at the back than the front, turning the entire holster body into a wedge. This allows for the same tucked in gun butt orienation without putting torque on the belt loop, which was always the weak point of the AIWB version of the Looper.
Another benefit of the Shaggy is that the belt loop is a removable part. If it were to crack, you need only replace the loop. Alternatively, CCC will soon also be able to provide a leather loop that attaches in place of the solid kydex loop in these pictures.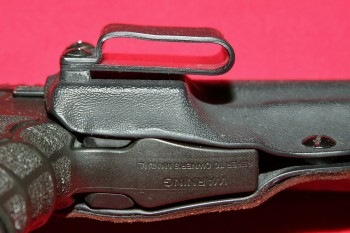 The Shaggy certainly looks a little odd. As you can see from this photo (left), the trigger guard area has a bulge that gives it an uneven appearance. But that is the result of the wedge shape and a desire to keep the trigger protected from even the most unlikely problem.
As good as the Looper was when pressed into AIWB service, the Shaggy has definitely surpassed it as a dedicated appendix design. It's every bit as comfortable and at least as fast & concealable, if not more so. Add to that the holster's flexibility and improved durability and it's easy to predict the Shaggy will become the new standard in kydex AIWB.
The holster and the P30 will be busy in the coming week, with lots of range time and a couple of classes scheduled this weekend, as well. In particular, this Saturday the P30 is being loaned to "John_Wayne777" (author of the Handgun Low Light Essentials article) during the Get SOM class in Virginia. So next week you can expect to hear JW777's comments about the gun after spending an entire day with it.
Train hard & stay safe! ToddG
Previous P30 Endurance Test posts at pistol-training.com: