9-Mar-10 – 10:38 by ToddG
"Slow is smooth, and smooth is fast."
Sorry, but I hate that line. Slow is not fast. At a certain point, speed comes from working at speed, not working to be smoother. Smooth is not fast. Smooth is smooth.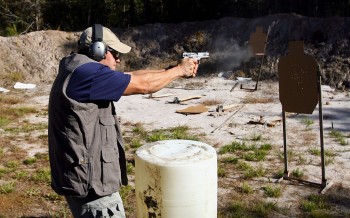 It's true that if you're not smooth you are probably not fast. But that doesn't mean getting smooth will make you fast. Plenty of people can operate an automobile smoothly. Make them do it at 120mph and suddenly things get dicey. Why? Because they've practiced to operate at a certain speed and not beyond it.
To get fast, you have to practice faster. Again, this does you no good if you're not smooth but once you've got the smooth part down pat, it's time to work on speed for speed's sake.
It always amazes me that shooters have no trouble accepting that we overemphasize accuracy in some of our training (shooting slow, deliberate groups at a pace that is completely impractical from a fighting standpoint, or a game standpoint, or whatever)… but ask them to overemphasize speed and their brains melt.
The best advice I ever heard on this subject came from Erik Lund (IPSC GM, LEO, and instructor at U.S. Shooting Academy). Erik told me long ago that sometimes, you have to go so fast that you miss. That doesn't mean mindlessly spraying the backstop with lead. It means that if you really want to push yourself to be faster, you need to go beyond your current comfort level and accept that some of your shots won't be in the x-ring.
The trick is finding the right balance for your skill level. Most people really do need to work on the x-rings and the smoothness. But once you reach a plateau, once you can do things great when you're slow & calm but the wheels fall off when you're under pressure or trying to go fast, it's time to reassess your approach and recognize that speed comes from practicing speed, not from practicing slowness.
Train hard & stay safe! ToddG