9-Jun-08 – 01:00 by ToddG
14,123 rounds
2 stoppages, 0 malfunctions, 0 parts breakages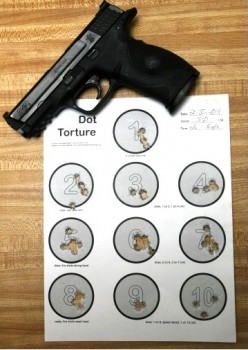 Another week, a little over twenty-four hundred rounds, and no problems of any kind. Based on that — along with discussions with a number of technically knowledgeable folks — we've come to the conclusion that the stoppages experienced during Week Six were a maintenance/lubrication issue rather than a mechanical failure. Still, a stoppage is a stoppage and we'll be keeping track of everything regardless of cause.
As you can see to the right, the gun is performing great. That is the Dot Torture drill, 100% hits at five yards.
Wednesday night I spent working almost exclusively from my Safariland 6320 holster with an Insight Tech-Gear XTI Procyon weapon light attached to the gun. Even with the ALS retention mechanism of the 6320, the holster is just as fast as a concealed draw from the Custom Carry Concepts Looper I normally wear. The Procyon is still going strong, too, and has stood up to about a thousand rounds of use without any effects. Now if only there was a way to mount one of Insight's incredible little Mini Thermal Monoculars to the pistol …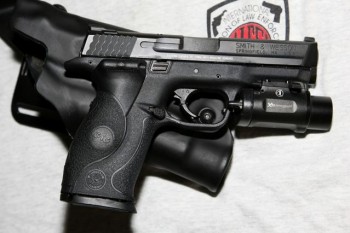 M&P9 with Warren Tactical sights and Crimson Trace Lasergrips, Safariland 6320 duty holster with ALS retention system, and Insight Tech-Geatr XTI Procyon weapon light.
Previous entries:
Train hard & stay safe!  ToddG