20-Jun-08 – 18:55 by ToddG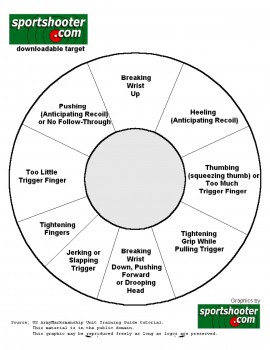 Targets like the one pictured to the left, taken years ago from the now-defunct sportshooter.com website, are very popular among shooters. A few years ago I taught a class for a federal agency and they had a huge poster-size version up on the wall of their classroom. Supposedly, the target can diagnose why you aren't hitting the center of your target
To an extent, it's true. But it's important to understand what the target is and isn't intended to do.
To get value from the target, you must:
1. Shoot one handed
2. Use the appropriate target (right or left handed) 
3. Shoot slowly
4. Have a perfect sight picture for every shot 
Why? Because the target does not take into account anything you might do to upset your sight alignment with your support hand, nor does it account for any misalignment in your sights.
So is it useless?
Absolutely not. But you need to remember that it is just a sheet of paper. It isn't watching you shoot. It's not able to tell if you are blinking, or looking at the target instead of your sights, or anticipating recoil. It can't see how you're holding the gun, how you're standing, or whether you're paying attention.
There was a shooter at the range next to me today who was using one of these targets for all of his shooting, paying close attention to where his shots landed and trying to make corrections based on it. But his problem wasn't one that was being identified by the target. Instead, he kept trying to correct subtle things when he clearly had a serious flinching issue. He also had what appeared from casual observation to be a habit of tightening the fingers of his support hand as he fired the gun. None of that is identified in the target. 
Which brings up another issue with the target: it doesn't know if there is one problem, or multiple overlapping problems. Does shooting low left mean trigger jerk, or does it mean pushing forward and too little finger on the trigger simultaneously?
So while a diagnostic target like the one above can certainly help you figure out what you might be doing wrong, be sure to pay attention to everything you're doing. If you hit a plateau and can't get past it, find a qualified instructor who can watch you shoot and perform some real shooting diagnosis.
Train hard & stay safe! ToddG