23-Jun-08 – 18:46 by ToddG
18,857 rounds
2 stoppages, 0 malfunctions, 0 parts breakages
It was a 2,230 round week for the M&P9 Torture Test. Boringly, there is nothing to report in terms of function. The gun still hasn't missed a beat. However, we did make one little change to the gun and then took it out to a local IDPA match to test things out…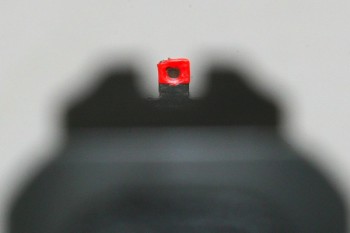 The change made to the gun this week was to borrow our own JohnO's ingenious method for making the front sight more visible. You can see from this picture that my first attempt turned out rather disheveled looking, but it works great. The front sight is now incredibly visible indoors and out, and with the little hole punched in the middle for the Trijicon tritium capsule it works as well as ever in the low light, too. JohnO will be providing details on the how-to here at pistol-training.com in the coming weeks.
The rear sight, for those not familiar, is the outstanding Warren Tactical sight. 
How does it work? Pretty darn well if the past week is any indicator. I took the pistol to the Anne Arundel Fish & Game Association IDPA Club match on Saturday. In the morning we shot a very well designed 8-stage match that involved a lot of up close targets, including quite a few head shots. Then after the regular match, competitors were given the opportunity to shoot the IDPA Classifier. I turned in my personal all-time best score, 80.85 (with a total of ten points down). That bright red sight makes for fast, easy acquisition without compromising long range marksmanship.
A few other little changes are in store for this coming week, so be sure to check back with us next Monday for a full report. In the meantime, train hard & stay safe! ToddG
Previous entries: