14-Jul-08 – 23:59 by ToddG
24,594 rounds
2 stoppages, 0 malfunctions, 0 parts breakages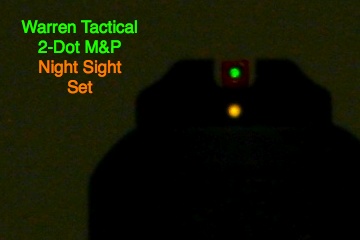 With 25,000 rounds right around the corner, things are fairing very well with the gun. More than a dozen different people have test fired it without any problems whatsoever.
Another change to the sights this week, and one which will no doubt receive a lot of happy attention: we received the prototype Warren Tactical tritium night sight for the M&P. The front dot is a large green tritium capsule, while the rear dot is a smaller, dimmer orange capsule. The result is a very clean sight picture during the day, and an easy to align 2-dot pattern in reduced lighting. Regular production is expected soon and we at pistol-training.com expect the Warren Tactical night sights to become more and more popular.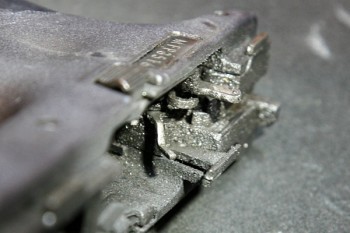 The pistol was cleaned today for the first time in over 5,700 rounds … so the commitment to keep the gun clean has sort of gone by the wayside. As you can see from some of these photos, the gun got pretty dirty. But with nothing more than the occasional drop of Militec-1 on the rails and barrel it kept running perfectly. Thanks go out to Russ and the gang at Militec for providing all of the oil used in the Torture Test so far.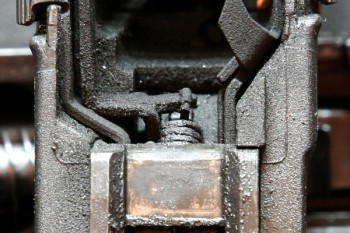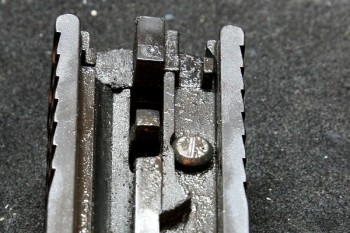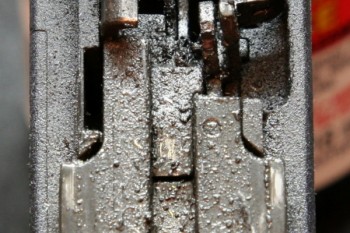 Train hard & stay safe! ToddG
Previous entries: