19-Oct-10 – 16:22 by ToddG
39,653 rounds

1

stoppages

1

(*) malfunctions

1

parts breakages
On the very first round of the first day of this past weekend's Aim Fast, Hit Fast class in Indianapolis, the HK45 delivered a light primer hit that failed to set off the round of 230gr Winchester Ranger Talon that had been chambered since my flight touched down the night before. This was the first simple stoppage the pistol experienced since the beginning of the test.
As you can see from the photo on the left, the primer was clearly struck but just slightly. Because I wanted a photo of the round for everyone to see, there has not been a chance to drop the hammer on it a second time. While I sincerely doubt it will fail to fire, should that happen, pistol-training.com will erase the stoppage from the gun's tally. (edit 21-Oct-2010: the round fired properly on the second strike)
The pistol subsequently fired 336 rounds without a bobble of any kind, shooting both the Winchester Ranger and CCI Blazer. The pistol was also fired by half a dozen of the students in class on Sunday afternoon without incident.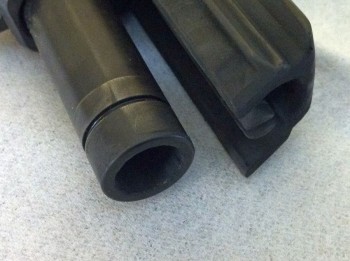 The only other (somewhat) noteworthy incident of the week was the disappearance of the rubber o-ring from around the barrel. Since no one (including the folks at HK) seems to believe the o-ring does anything useful, and as the loss apparently did nothing to hamper the pistol's inherent accuracy, this will not be counted as a "breakage" for the purpose of the test. The HK45 comes with replacement o-rings which are, presumably, meant to be replaced at some regular interval. The fact that I never bothered isn't the gun's fault.
F.A.S.T. runs during the class turned out ok. The cold run on Saturday really was cold, after being outside in low-40's weather with no gloves for two hours: 5.87 clean. The end of day run was a nice 4.67 clean. Cold run on Sunday was 5.11 clean, end of day was 4.66 clean, the best run of the weekend. It must have been the orange paint I put on the HK45 logo, right?
Train hard & stay safe! ToddG
Previous HK45 Endurance Test posts at pistol-training.com: