19-Nov-10 – 23:11 by ToddG
And it only took four months!
pistol-training.com and National Target have worked out an exclusive agreement to produce, sell, and distribute the pistol-training.com target. Price will probably be $38 per 100.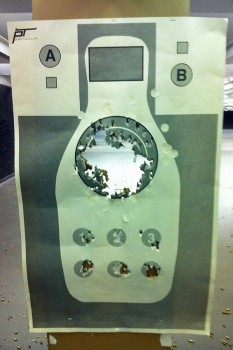 National Target has approximately 1,000 targets in stock from the last printing. These have a slightly (approx 1/8″) off-center 3×5 box in the "head." I've used hundreds of them in classes and in my personal practice and don't even notice. I've got about a thousand of them and will be using them for a very long time. But we wouldn't want someone to buy them and be upset if they noticed. So if the off-center 3×5 box will bother you, hold off for a while and check with National Target before placing an order.
Future runs — which will be printed based on demand — will have the 3×5 box properly centered and will also have "National Target Company" printed on them, unlike earlier targets.
The targets will be available at the National Target webstore eventually, but in the meantime, they've asked that you call their toll free order line, 1-800-827-7060.
Train hard & stay safe! ToddG