30-Dec-10 – 19:27 by ToddG
So there I was, just minding my own business, and an entire case of HK 2011 calendars fell into the trunk of my car. You may recognize the very special HK P30 pistol featured on the cover, it has just over 90,000 rounds through it: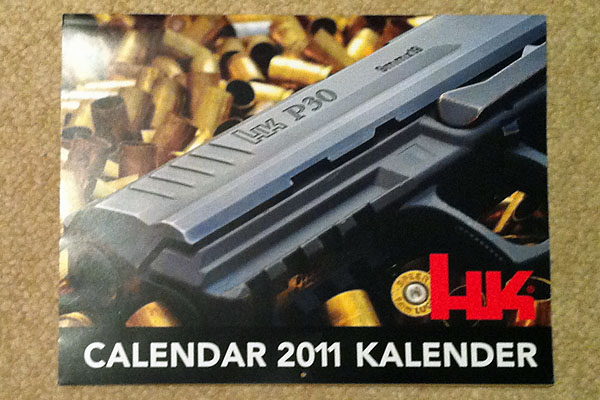 And yes, that is a very cheesy iPhone photo taken on the rug in my basement.
Anyway… since I now own more HK calendars than I could paper my walls with, it seemed like I should give some away. Which means it's time for yet another silly pistol-training.com contest!
Five funniest jokes (must be G- or PG-rated; any joke inappropriate for family viewing will be deleted and the contestant disqualified) win a calendar, shipped anywhere in the continental US.
You have until 11:59pm on Sunday (2-Jan) to post your jokes.
Strict limit of three jokes per person! (you may only win one calendar)
(standard disclaimers: not valid where prohibited by law, no purchase necessary, need not be present to win, you must be at least 18yo to enter, yadda yadda)
Make me laugh! ToddG